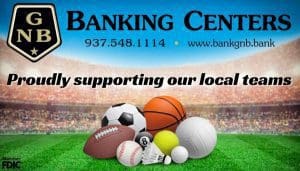 COVINGTON – The Covington Lady BUCCS took advantage of a second half running clock to defeat the visiting Bradford Lady Railroaders 53-7 in non-conference varsity basketball action.
"We worked on a lot of things that we needed to work on, moving the ball, getting downhill towards the basket," said Covington coach, Shawn Naff. "That is what we wanted to work on tonight – we did a good job of that tonight."
The Lady BUCCS jumped out to an early 14-2 score after one quarter of play with a balanced scoring attack.
Period No. 2 saw Covington's offense put 21-points on the board including two Gracie Anderson 3-pointers while holding the Lady Roaders to 4-points sending the teams to the break with the Lady Buccaneers leading 45-6.
Covington's defense kept Bradford off the board in the third and took a 45-6 lead to the final quarter of play with a 10-0 third quarter led by Maggie Anderson's 6-6 at the free throw line.
Gabrielle Hartwig was good for three fourth quarter baskets to lead Covington with six fourth quarter points and the Wednesday night home win.
Covington shot a torrid 12-13 at the line good for 92 percent shooting.
Carlie Besecker led Covington and all scorers with a game high 10-points. Nine Lady Buccaneers put points in the scoring column.
"Team basketball – they all played well," Coach Naff said. "I am pleased with our effort…defense, talking, hands."
"It is a process and it's not going to happen overnight," said Bradford coach, Josh Siedling. "Rome wasn't built in a day they say so we just have to keep trusting it and pick the positives we can work on. We fight to the end until the buzzer goes off. They hustle to the very end, we're going after loose balls and that is what you need, that foundation to build upon."
With the win, Covington improves to 8-3 on the season while Bradford drops to 0-11.
BOXSCORE:
COVINGTON 53, BRADFORD 7
COVINGTON – C. Besecker 10, M. Anderson 9, A. Koffer 7, E. Gostomsky 6, B. Anderson 6, G. Harwig 6, D. Murphy 5, M. Rogers 2, H. Alexander 2 – TOTALS 16 12-13 3 53
BRADFORD – Swick 3, Buchman 2, Crickmore 2 – TOTALS 3 1-2 0 7
3-POINTERS
Covington 3 (G. Anderson 2, M. Anderson 1)
Bradford 0
SCORE by QUARTERS
14-21-10-08 53 Covington
02-04-00-01 07 Bradford