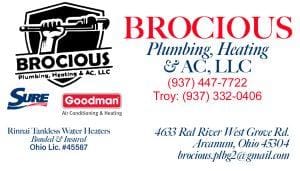 BRADFORD–Common Ground Christian Church (CGCC) here will be the scene of a celebration from 2 to 4 p.m. Sunday, Sept. 17.
The Common Ground Church, located at 120 W. Oakwood St. and formerly known as the Church of the Brethren, will celebrate not only Associate Pastor John Shelton's 50 years in the ministry but also his 80th birthday.
The event will be held in the Fellowship Hall of the non-denominational church.
The community, family, friends, and other well-wishers are invited to join in on the celebration.
Shelton is the associate pastor while Dan Scalf is the senior pastor, and T.J. States is the worship pastor.
Shelton started in the ministry when he felt the call when he was working in a factory in Springfield known as International Harvester, now Navistar. He did both jobs for a while.
"I went to a seminary through a program that was offered," he said. "For two years, I worked at Miami Valley Hospital on pastoral counseling."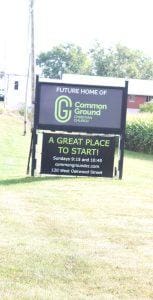 He is also now bereavement coordinator at Baird Funeral Home in Troy and vice president of the Bradford Area Association of Churches, in addition to duties at Common Ground.
His other pastorates included a home mission church in Troy when he was 30 for 11 years; another one in Quincey, Ohio; then Tipp City (the Skyview Wesleyan); and another one in Christiansburg before coming to Bradford.
James Brunk was pastor when Shelton arrived in Bradford, and Shelton had served as interim pastor for one year before Scalf came on board in 2007.
And, he worked for six years to serve as chaplain of Hospice in Miami County.
Shelton lives a mile out of Bradford with wife, the former Jane Reynolds, whom he married 20 years ago this coming Dec. 13.
He has three children, Wesley Shelton of Pennsylvania and Kimberly Scott and Beth Scheck, both of Springfield. There are three grandchildren and three great-grandchildren.
In his spare time, Shelton likes to fish.
"It's the sport of my choice," he said, smiling. "I mostly fish at the Stillwater Prairie or Lake Loramie."
He said there is no sign of him retiring any time soon. He would rather keep on doing this while he can.
"I always want to be involved with what I'm doing," he said. "People say I am an encourager."
According to him, Pastor Scalf officiates at most of the marriages in the church, and he handles most of the funerals.
Even during COVID, Shelton conducted funerals, wearing a mask.
Because the church is growing, as aforementioned, there are building plans in the near future. The church home will then be located at 9993 Children's Home-Bradford Road.
In the meantime, life goes on.
"We bought the farm close to the school," said Shelton, who observed his 80th on Sept. 13.
"We're running out of space here. We were limited on classroom space everywhere. Attendance is usually 200 at our two services."
The church now has a children's ministry, which he called Kids City, on the lower level of the church at 10:45 a.m. Sundays for those from nursery for sixth grade in four different classes; an Impact Teens Ministry on the lower level from 6 to 8 p.m. Sundays for those in grades 7-12; a Renewed in the Spirit Women's Ministry in the fellowship hall every second Wednesday at 7 p.m.; and a Men's Ministry with breakfast in the fellowship hall the first Saturday of every month at 7:30 a.m.
"We send our youth and 10 chaperones every July on mission trips, such as cleanup for disasters," he said.
There will be an AMAZE-ing Fall Fest held on that grounds on Sept. 30 and Oct. 1 from 1 to 6 p.m. Featured will be food trucks, children's activities, and a corn maze in addition to fellowship for the whole family.
Parking will be available at the Bradford High School.
The pastors ask that those interested in checking them out to go to their website Commongroundcc.com or on their app. Common Ground CC.
Office hours are 9 a.m. to 3 p.m., Monday through Wednesday.