GREENVILLE—The Darke County Cattlemen's Association (DCCA) held its annual banquet Saturday evening at the VFW Post in Greenville, with approximately 150 people in attendance.
Recognition was given to quite a few people during the event, with guest speaker being Amanda Radke of South Dakota, an author of eight children's agriculturally-correct books, which focus on the cattle industry.
Radke also read her first book, "Levi's Lost Calf," to children in the audience at the onset of the banquet. She talked of how life was like growing up in a five-generation cattle-ranching family. This Darke County stop was one of her many this season in telling about the cattle industry.
"The cattle industry is worth fighting for," she told the crowd. "We are teaching people to champion alongside us. Politicians need to hear our story."
DCCA President Erin Horst made the introductions and Director Joe Hartzell gave the invocation prior to the serving of the meal.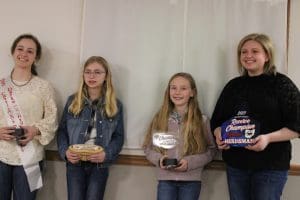 Jake Breymier, another director, introduced special guests.
Receiving herdsmen awards were: Junior division: Sarah Bergman first, Kaleb Sargent second, and Mackenzie Rismiller third; and senior division: Paige Gehret first, Makayla Cain second and Owen Sargent third.
Director Andy Byram presented the 2023 $500 scholarship award winner, which went to Ben Hartzell, who will be attending Sinclair College. He is a senior at Mississinawa Valley and the son of Joe and Carmen Hartzell.
Director Megan Cover awarded Alma May a special mention honor for raising money at the steak and chop tent.
Introduced were this year's queen and princess, Makayla Cain and Grace Graf, respectively. Their predecessors were Princess Paige Gehret and Queen Rose Barga.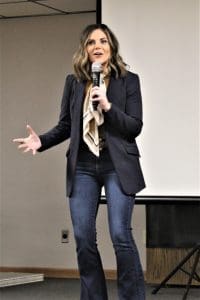 Handing out the director's award was Brian Winner, who announced this year's posthumous recipient, Steve Beanblossom, who was represented at the banquet by various family members. Beanblossom's wife, Leesa, accepted the award on behalf of the family.
Beanblossom died Dec. 31, 2022, at the age of 64. Among other things in the industry, he raised Hereford cattle.
He and wife Leesa have four daughters: Jenny, Katie, Sara and Emily and numerous grandchildren.
Previous winners of the director's award were Polo Perez in 2021 and Bob and Margaret Hartzell in 2022.
In the election of officers, Breymier, an incumbent, as well as Lizzy May and Dustin Snyder were elected to fill the three positions.
Going off the board are Brian Winner and Andy Byram, who have served their required terms.
Thus, the newest set of directors include: Erin Horst, Megan Cover, Joe Hartzell, Heinrick Post, Tiffany Hartle, Jake Breymier, Lizzy May, Dustin Sndyer and Ex-officio Taylor Dill.
The evening ended with the handing out of door prizes.
The meal was prepared by Mary Bergman and her crew, who were given accolades for their involvement in the banquet.
Last year's banquet was held in the summer outside so that people could distance themselves.