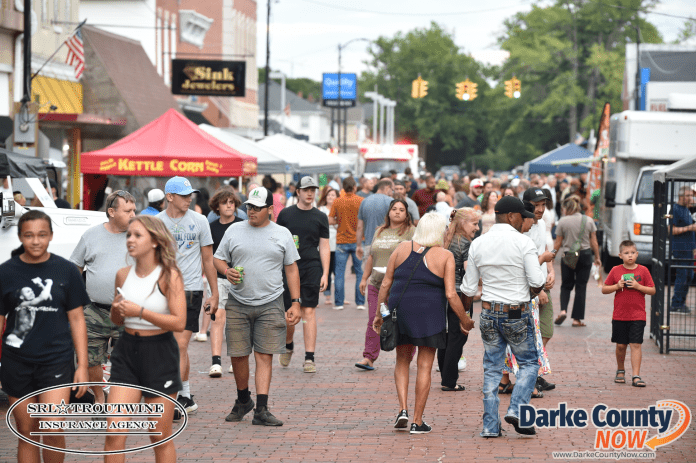 "Best turnout of the three years," said founder, Tracy Fout. "Friday night we set a record and Saturday was another record."
One thousand Friday night attendees are treated to a free smoked pulled pork meal. Winner's Meats supplied 350 pounds of pulled pork and the organization raised $1,400 in donations to be used for free annual Thanksgiving dinner.
Saturday, the Party hosted more than 100 cars to the car show along with a softball tournament, a poker run, golf cart parade, kiddie tractor pull, egg drop and a Night at the Races.
"We added the kiddie tent this year," said Fout. "The kids responded great to it. They're running out of food every night and that just shows how active everybody is."
"The turnout all the way around has been fantastic," Fout continued. "We couldn't ask for a better response."
The Brick Street Block Party was created as a way for Tracy Fout to give back to his community in of the darkest times.
"It started during the COVID-19 year," Fout, owner of SRL-Troutwine Insurance, who hosts the event said. "We wanted to do a meal for the local community so we got pork, hamburgers and hot dogs and gave it away for free."
With the help of SRL employees Victoria Landis and Layne Byrne, as well as members of the village community, Fout runs the Give Thanks Foundation that gives meals to families on Thanksgiving Day that are in need of food. All proceeds from the event go towards those meals.
"We are super excited with the results we're getting," said Fout. "We have had growth consecutive years, we have had a lot more help with the community branching out and having more local businesses help us and local community people helping us. This will be the first time we will be able to give back to our community in a donation form."
"Everybody is having a good time just sitting back, relaxing and enjoying themselves," he added.   "Community, friends and relationships is what it's about."
With the completion of the Third Annual Brick Street Party, Fout replied when asked about a fourth annual party, "most definitely – the fourth one will be for sure."