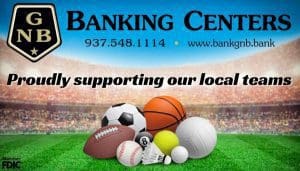 BRADFORD – The Railroaders jumped out on top of visiting Franklin Monroe in boys' basketball 28-21 at the half only to see the Jets close out the 3rd quarter on a buzzer beater 3 to trail by 2 heading into the 4th quarter. Bradford hung tough and shut down the Jets offense in the final frame to post a 53-37 WOAC win.
Bradford looked sharp to start the game running their offense and taking what the defense was giving and it was no surprise that 6'3" senior Parker Davidson was the man knocking down most of those shots opening a 13-6 lead with 3 triples … but the Jets got a three ball by Brady Wackler at the end of the 1st to close to 13-9.

Senior Parker Davidson scored 21 points to lead the
Railroaders to a win over FM.  (Dale Barger Photo)
The pace of play in the 2nd quarter became more up tempo as both teams were getting up and down the floor.  Bradford won the quarter 15-12 to take a 28-21 halftime lead.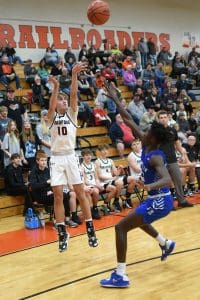 The Railroaders held a 28-15 lead at 2:20 mark on back-to-back triples from Hudson Hill only to see the Jets close that gap on 3 straight buckets inside from EB Fall, Gage Wackler and Blake Addis.
After scoring 13 points in the 1st half Parker Davidson only got 2 in the 3rd quarter both off free throws.  The precision Bradford ran the offense for nearly most of the 1st half disappeared.
Credit Franklin Monroe for doubling teaming Davidson when he did touch the ball and taking Bradford out of offense.
The Jets took advantage and closed the gap … Cason Yount scored 4 points, but it was a triple by Gage Wackler at the horn that pulled the Jets to within a bucket 38-36 to end the 3rd quarter."When other teams come out and  take away your first option or your first action, that's the respect that they have for you as a team, and we must be able as  players run the counters making reads that we work on and continue to be players looking for the second and third option.  Troy Myers is a good coach, and his teams are going to do that to you," Bradford coach Jay Hall said.
We have good coaches in this league and talented kids at other schools, good teams we go up against take away what we want to do that's just part of the game. We must realize that it's not A to B to C to layup and we didn't have the patience to keep working it," Hall stated.
However, coach Hall can be pleased that his team's defensive effort was good all game long and couldn't get much better than the 4th quarter.
In the final period the defense by Bradford was good holding the Jets 1 free throw and forcing them to foul where they took advantage making 9-of-11 to pull away winning the game 53-37.
"My kids are tough, yea we weren't clicking tonight on the offensive end, but I was very pleased with our defense.  We were communicating, talking and operating as a single unit. You know, we're seven guys in and out. We've had guys sit and didn't play as many minutes as they usually play but everybody that played was on the same page," Hall praised.
The defense held FM leading scorer EB Fall to just 6 points, 12 points under his average and no one reached double figures.  They fall to 2-5 overall and 1-4 in WOAC and will be back in action Friday at Emmanuel Christian.
Owen Canan scored 10 points for Bradford in win over FM. (Dale Barger Photo)
Bradford was led by Parker Davidson with 21 points and Owen Canan with 10.  They improve to 6-1 overall and 4-0 in the league.  They host Lehman Thursday night.
"We are happy to get the win tonight, Troy does a heck of a job with his kids, and it looked like they executed the game plan he'd been working on.   I don't feel like I can say that. We didn't execute much of what we've worked on, there's things we need to fix.  We're staying positive. I will say this our guys like each other, and all get along well, we don't point fingers, we know what we got to do to get better," Hall concluded.
BOX SCORE:
Score by Quarters:
Franklin Monroe         09        12        15        01 – 37
Bradford                      13        15        10        15 – 53
Team Scoring:
FM:      Riffel 3, G Wackler 5, Yount 6, Addis 8, Fall 6, B Wackler 6, Wilson 3
BRAD:  Monnin 2, Canan 10, Hill 8, Davidson 21, Wills 2, Miller 2