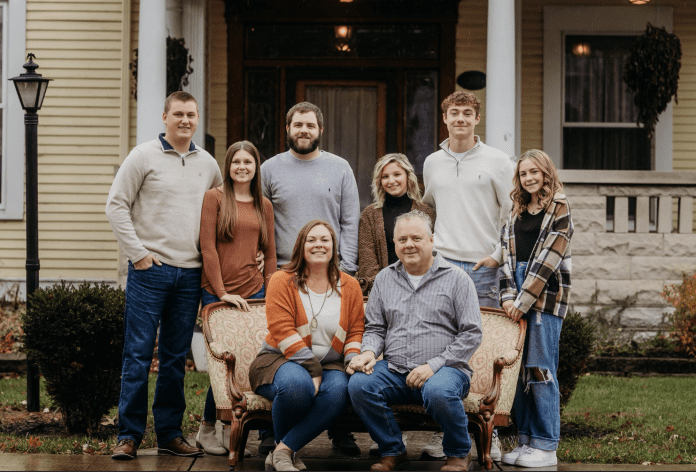 GREENVILLE—Greenville native John Baumgardner's candidacy for Mayor of Greenville shouldn't come as a surprise.
Currently President of Greenville City Council, Baumgardner said he's planned to run for years.
"From six years ago, my ultimate goal was to get back on council ward 4, then run for Council President, and then when Steve Willman decided not to run again, run for mayor," he said.
Baumgardner was born and raised in Greenville, and lived in the area his entire life. He is the youngest of four children, born to the late John Baumgardner and Joyce Prashun, of Greenville.
He said while his parents gave them everything they needed, if he wanted something, he's always known he had to work for it.
"At a young age, I was taught that you must work hard if you want to have nice things," he said. "This lesson has been engraved in my mind ever since."
He started his first job at the age of 12, and spent his childhood mowing yards and working odd jobs. After his family moved to a farm at the age of 14, he started working for several farmers, in which he milked cows, planted tobacco and baled hay.
Baumgardner has worked at AeroMark for over 37 years, where he was a route delivery representative for 18 years, district manager for three years, regional service trainer for five years; general manager for seven years and is now the national account manager.
In addition, he owns numerous rental properties and several businesses in Greenville. He owns Troy Sunshade Co., of Greenville, the Greenville Car Wash, located across from the fairgrounds, and co-owns the Greenville Dairy King.
Baumgardner said he takes pride in giving back to Greenville.
"Another way I contribute is by providing job opportunities to our citizens in the businesses that my family and I are involved in," he said.
If elected mayor, he has four concerns he plans to address: economic development, drug awareness and prevention, distressed properties and strategic planning on housing.
Baumgardner plans to work with Darke County Economic Development to ensure the city retains its current businesses and work to bring in additional new jobs. While Greenville's 45-and-over is growing at 12% and our 45-and-under is shrinking at -1%.
He said he believes the city needs to work with schools and businesses to recruit youth in the community.
"My current job has provided me with the expertise of running a large company while managing 85 employees and ensuring thousands of customers are satisfied," he said. "I will work with our schools and businesses to get our college kids back to Greenville. We also need to make sure local companies are doing business with other local companies, where possible. My goal is to visit every business a minimum of once a year. We have to make it easier to do business in the city of Greenville."
He added that he will address Greenville's growing homeless population by tackling drug prevention and awareness.
"The Greenville Police Department has school resource officers stationed at our public city schools," he said. "I'd like to utilize these resource officers to provide a drug awareness and prevention education."
Baumgardner served three terms on the Greenville City Council, and two terms as Council President. Him and his wife Stephanie live in Greenville, and have four children: John Austin, Alyssa, Alexander and Aubrey.
Baumgardner said he cares immensely for Greenville, and will work hard to make it a better place.
"I'm a very passionate person and work hard to get the job done," he said. "My three terms on Greenville City Council and current term as President, along with my experience in developing properties, and my managerial roles for a Fortune 500 company and several small businesses, have equipped me with the tools needed to make Greenville an excellent place to live and do business."
For more on his campaign, click here.