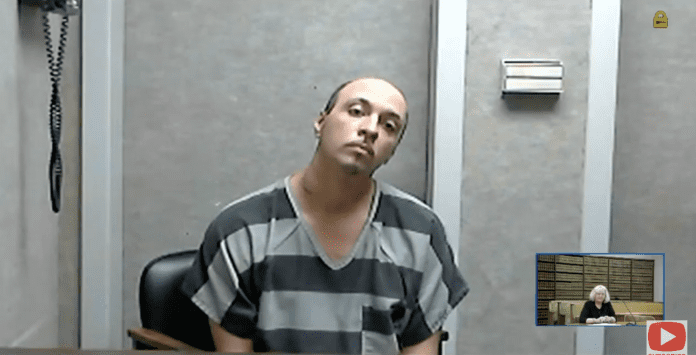 GREENVILLE—One Darke County man was arraigned on murder charges in Darke County Common Pleas Court on Monday afternoon. Judge Jonathan P. Hein presided.
Dean M. Baker, 35, of Greenville, was arraigned on one count of murder, an unclassified felony and one count of abuse of a corpse, a fifth-degree felony. He was previously arraigned on was one count of tampering with evidence, a third-degree felony. If convicted, he faces life in prison and fines of up to $32,500.
Due to conflict with the available public defenders, his current counsel is to be determined. A not guilty plea was entered on his behalf.
Baker and Ashlee R. Fletcher, 37, of Greenville, were taken into custody at a truck stop near Ocala, Florida on the evening of August 24, 2022. The two were wanted previously in connection to the death of Corey Fleming.
Darke County Sheriff Mark Whittaker requested the assistance of the United States Marshals Service to capture the fugitives.
Fleming, 30, was reported missing by family to the Union City, Ohio Police Department on August 18, 2022. The Greenville Police Department also began an investigation in the City of Greenville as a result of suspicious circumstances connected to Fleming's disappearance. This joint investigation led out in to rural areas of Darke County.
Investigators from the Darke County Sheriff's Office and Greenville Police Department discovered a shallow grave during a search on the property of a commercial poultry operation in northwest Darke County on Saturday, August 20, 2022. The Darke County Coroner's Office was notified and responded to the scene. Fleming's body was discovered in the grave.
Charges were filed on Thursday.
Assistant Darke County Prosecutor Debra Quigley asked for bail to be set at $200,000 due to the addition of the murder charges.
"Your current inability to set the $100,000 bond is considered, as is the additional charges," Judge Hein said. "So that is considered."
His bail was set at $150,000 cash surety or property, with his next hearing on Thursday, Oct. 13.
Darke County Common Pleas Court hearings are available to stream on YouTube at: https://tinyurl.com/commonpleas.