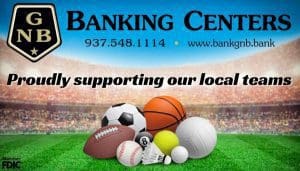 ARCANUM – Arcanum senior Eain Parks signed his letter of intent to compete at the next level for NCAA DII Davenport University Panthers track and field program.
"They reached out to me and looking through the college and their different programs I liked how it looked," said Parks. "When I took a visit it was the best place I found."
"Eain is a tremendous kid, a tremendous person, great family, works really hard," Arcanum High School Principal Jason Stephan stated. "He's a kind of kid who is pretty quiet, just goes about his business and all the sudden he's grown into this great track and field athlete. He's worked hard at it."
Parks expects to contribute as soon as he steps on the campus of the Grand Rapids, MI school while competing in track and field throwing events including shot put, discus, weight hammer – "just about anything," he stated.
"He's worked hard at it," said Stephan. "This was his year to shine. He made it all the way to Regionals and he has a lot of potential at the college level."
Parks, the son of David and Morgan Parks plans to study Computer Science.
"Academically he is going to do a great job," Stephan stated. "He's a bright kid, great mind, works very hard in class, very studious so I expect him to continue to excel and go off and do great things after he leaves Arcanum."
The muscular 6'4" Parks will continue to work on conditioning at Davenport stating; "They have indoor, outdoor and two hour weight lifting every day along with practice."
Parks took time to thank the many that helped him reach his goal of competing at the next level.
"I would like to thank my parents and my family," he said. "I want to thank my track coaches, my teammates and my friends."