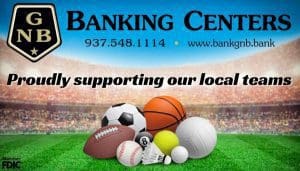 ARCANUM – The Arcanum Trojans defeated the National Trail Blazers 47-29 in WOAC action on the Trojans home court.
"We came out playing our game and then they started to slow us down a little bit," said Arcanum assistant coach, Chey Kramer. "We were just trying to adjust to that and trying to attack when we got the ball."
Arcanum took advantage of eight Nick Sharritts first quarter points to grab a 12-7 lead after one quarter of play.
The teams played to a 5-5 standoff in the second with Trail going to a slowdown offense sending the teams to the break with the Trojans holding a 17-12 lead.
"It's just one of those games where the other team is trying to slow you down, trying to stay in the game so our boys had to adjust a little bit," Kramer noted. "We had some shots in the first half that we would take every day of the week – it seemed like the lid was on the basket for both teams. They were trying to slow us down so we were trying feed the post and feed the high post."
Arcanum put some distance between the team in third quarter action with coach Roger McEldowney going to his bench to outscore the visitors 10-3 to lead 27-15 with one period to play.
"We put some bench guys in there in the third quarter and they gave us the jolt in the arm that we needed," said Kramer. "We got some guys diving on the floor and making some plays for us – a total team effort."
Quarter No. 4 had six Trojans getting on the board good for 20-points led by Sharritts' 8-points.
"Our boys did a great job of adjusting in the fourth quarter," Kramer said. "We started pushing the ball up the court and getting some easy baskets."
"Nick Sharritts has been around four years as a varsity player for us," Coach Kramer said of the Trojans 6'5" senior post player. "He does a nice job in there for us, he's kind of the glue to our team and  he gets us going to where we need to go."
Sharritts led Arcanum and all scorers with a game high 18-points. Kellen Laird led Trail with 12-points.
BOXSCORE:
ARCANUM 47, NATIONAL TRAIL 29
ARCANUM – N. Sharritts 18, B. Lock 6, R. Christ 6, G. Garno 4, B. Sharp 3, R. Murray 3, C. Burke 3, A. Psczulkoski 2, C. Thompson 2 – TOTALS 17 4-7 3 47
NATIONAL TRAIL – K. Laird 12, N. Brubaker 8, T. Blevins 5, B. Thompson 2, G. Lesh 2 – TOTALS 6 2-10 5 29
3-POINTERS
Arcanum 3 (B. Sharp 1, R. Murray 1, C. Burke 1)
National Trail 5 (N. Brubaker 2, K. Laird 2, T. Blevins 1)
SCORE by QUARTERS
12-05-10-20 47 Arcanum
07-05-03-14 29 National Trail