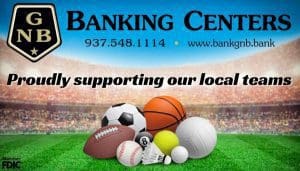 ARCANUM – The 7-1 Fort Recovery Indians took advantage at the free throw line to escape with a 55-52 overtime win over the 3-5 Arcanum Trojans in a Tuesday night non-conference matchup.
"The kids played pretty well overall," said Arcanum coach, Roger McEldowney. "We're still messing around with the lineup, looking for combinations that play together."
The Trojans battled back from an 11-2 Indians lead at 2:29 in the opening quarter before settling on a 13-5 Fort Recovery lead after one complete. Landon Post paced the Indians with 5-points, a 3-pointer and 2-2 at the line.
"It's just about taking care of the ball and making shots – that's what the difference was," McEldowney stated.
Trailing 17-9 at 5:31 in the second quarter, Arcanum ratcheted up play on both ends of the court to close out second period action on a 15-8 scoring run sending the teams to the break with the visiting Indians holding a 1-point 25-24 advantage.
Nick Sharritts led Arcanum with 9-second quarter points including a 3-pointer.
Fort Recovery was 3-points better in the third taking the quarter 11-8 sending the teams to the final period of play with the Indians leading 36-32.
Period No. 4 had Arcanum knotting the score at 38-38 at 5:19 and grabbing a 43-41 lead with 2:42 on the fourth quarter clock. Fort Recovery evened the score at 43-43 with 1:47 remaining followed with a Sherritts 8-foot hook-jumper in the lane to give Arcanum a 45-43 lead. Trojans freshman, Regan Christ knocked down a 6-foot baseline jumper to give the home team a 47-43 lead only to see the Indians even the score at the free throw stripe in the closing second sending the game to overtime.
"It was pretty hectic," Coach McEldowney said of fourth quarter play. "We just need to take care of the ball a little bit better, be smarter. We have some guys that it's their first varsity experience and they need to continue to learn."
Rammel came into the night leading Fort Recovery with a 24.7 average on the season and would score all five Indians overtime points to earn the 55-52 win over the Trojans.
"We're going to get better and learn from this and hopefully make a few more plays the next time so we can finish the game off," McEldowney concluded.
Fort Recovery shot a respectable 12-17 at the charity stripe for 70.5 percent while Arcanum struggled at the line going 5-12 for 41.7 percent.
Rammel led Fort Recovery and all scorers with a game high 25-points. Sharritts paced Arcanum with a 20-point night.
BOXSCORE:
FORT RECOVERY 55, ARCANUM 52 O/T
FORT RECOVERY – C. Rammel 25, L. Post 9, D. Patch 8, R. Leverette 6, A. Dues 3, T. Riggs 2, T. Homan 2 – TOTALS 14 12-17 5 55
ARCANUM – N. Sharritts 20, R. Christ 15, G. Garno 5, C. Thompson 5, R. Murray B. Sharp 3 – TOTALS 13 5-12 7 52
3-POINTERS
Greenville 4 (Harrington 2, Gostomsky 1, M. Anderson 1)
Arcanum 7 (R. Christ 4, B. Sharp 1, N. Sharritts 1, C. Thompson 1)
SCORE by QUARTERS
13-12-11-14-05 55 Fort Recovery
05-19-08-18-02 52 Arcanum