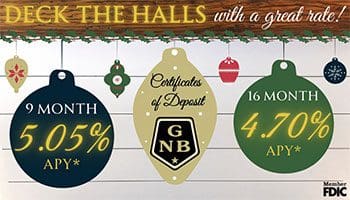 PIQUA – For one half  of football the Ansonia Tigers competed at a high level against Marion Local and trailed just 7-0 at the half.  The 2nd half would be all Flyers who erupted for 41 points to advance to the DVII State Semi-Finals ending the Tigers dreams of reaching the State Final Four.
The loss doesn't diminish the incredible season Ansonia produced on the gridiron finishing with the most wins in school history with a 13-1 overall record, the first regional semi-final appearance and their 2nd WOAC League Championship.
It wasn't a secret to anyone coming in the challenge presented to the Tigers who embraced it playing their brand of football that engulfed 11 minutes off the clock in the first quarter keeping the ball out of the Flyers hands.
Ansonia received the opening kick-off and was able to pick-up a first down … but Marion stiffened forcing a punt that was blocked but scooped up by an aware Cameron Grilliot who advanced it for a 1st down to keep possession and the drive alive.
Ansonia then consumed the clock with a steady drive before stalling at the red zone without any points as the Flyers took over with 1:00 minute left in the opening quarter.
"We didn't score on the first drive, but we held the ball most of the quarter and that helps when you can keep a great offense like Marion's off the field," Ansonia coach Adam Hall stated.
Marion went to work on their 1st possession but found it thwarted when Landyn Bowman jumped the receiver picking off the Flyers pass giving the ball back to Ansonia near the 45-yard line.
The Flyers held forcing two straight punts after the Tiger's held Marion on their second possession.
But on Marion Locals third possession they struck paydirt.  After two long pass plays they capped the drive on a 2-yard plunge to go up 7-0 at 4:45 in the 2nd quarter.
Both teams coughed it up late trading possession and then the Tigers had one more drive stalling near midfield and got an incredible 48-yard punt from Keegen Weiss that was downed at the one-yard line with 15 seconds left to go in the half.
Marion completed a 50-yard pass and then had one second left, time to throw one more time to the endzone but it was picked-off near the goal line by Ansonia Cainan Robinson and the score remained 7-0 at the half.
"I thought we played great defensively in the first half, we were tackling and filling well, and our coverage was pretty good too, not a lot of people can say they held Marion Local to 7 points in  a half," Hall commented.
Marion Local struck quickly to start the 2nd half by returning the kick-off down to the 10 yard-line and moments later ran it in from 2-yards for a touchdown to go up 14-0.
The Tigers were unable to respond, and the Flyers scored again on their next possession facing a 4th down they got a 13-yard run to go up 21-0 at 6:49.
Marion again held Ansonia and for the 2nd time in the game blocked the punt in the endzone and recovered it for another TD and then had all the momentum as the Tigers now trailed 28-0.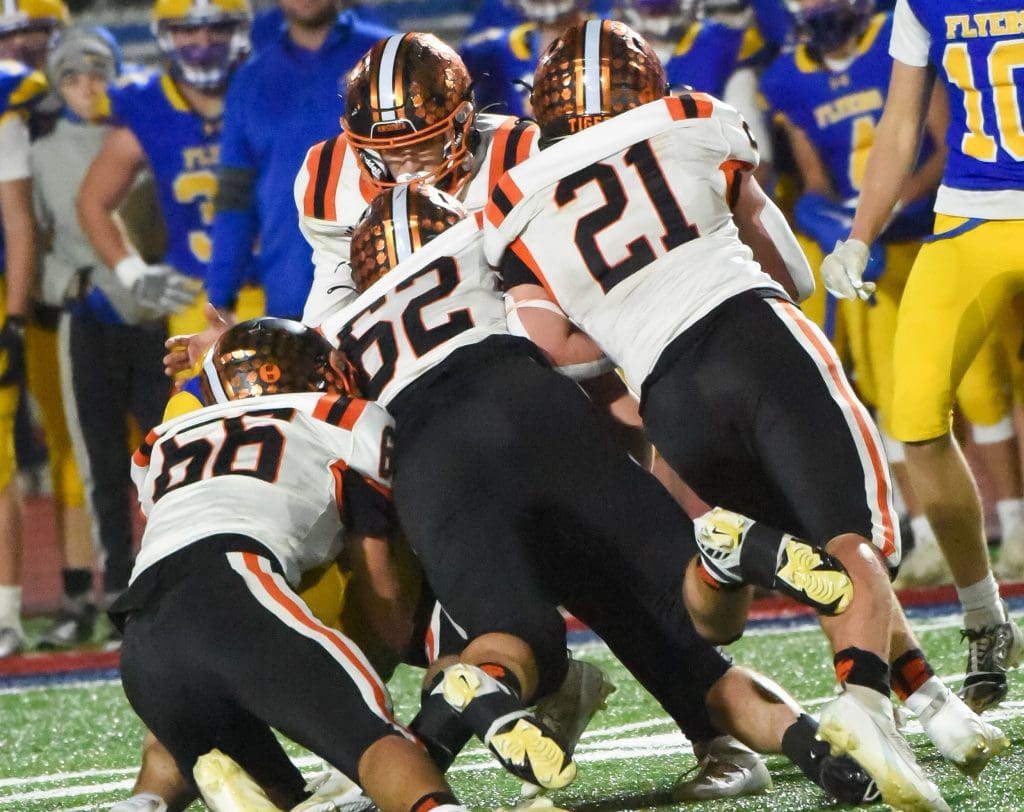 Ansonia who already faced adversity with a few key injuries and a number of two-way players starting to wear down, it was a tough ask to continue holding down an explosive Marion Local team who has the numbers and hasn't lost a game since 2020.
While the Tigers would end up falling 48-0 they can take pride in their first half performance against a team who will more than likely end up as State Champions.
"Things went south for us from the start in the 2nd half, we gave up the kick return there to start the half and we just couldn't get going after that while they started churning. You've got to give credit to Marion they are a great team. Everyone knows that coach Goodwin is one of the best and we wish them all the best going forward," coach Hall said after the game.
It's never easy walking off the field for your last game as a flood of emotions hit you, but for the 12 seniors on the Tigers team it will be a season they can take pride in and in time will come to know how special it really was.

Senior L-R: Wyatt Spencer, Nick Burns, Jordan Troutwine, Grant Barga, Garrett Stammen, Keesen Weiss, Ethan Reichert, Trevor Hemmerich, Landyn Bowman, Jared Schmitmeyer, Devin Geyer and Colton York.
"It's been a great year, there's a lot to be proud of, I know this loss stings now, but as we get further away from this game we'll all see we have a lot to go back and be proud of," Hall said.
"Our seniors did a great job being good leaders for us all year long, they're hard workers, they're great kids and you can't say what that mean to our program and how much I appreciate them as a coach," Hall added.
When he was asked by another reporter about whether the younger kids look up to the seniors and believe they can achieve what they did, and Hall had this to say.
"Yes, they can do that, they should, and the thing is, you know, you can't just wait to be a senior, and hope it happens. Our seniors went out and decided in January this is what they wanted and worked for it.   Now our young guys know if they want to do it they can follow their example and make it happen.  It is something we can do year in and year out if we're all working towards it," Hall concluded.
The Tigers captured the heart of the Ansonia community and have inspired the next generation of young football players, can they do the same thing as the 2023 team?  Only time will tell.