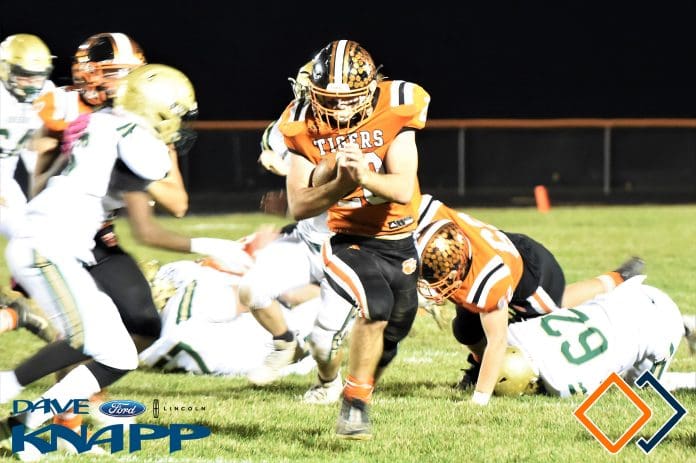 ANSONIA – The Ansonia Tigers soundly defeated the Springfield Catholic Central Irish 44-6 in second round OHSAA DVII football playoffs.
"They're a good football team," Ansonia coach, Adam Hall said of Catholic Central. "We've made a few mistakes on our first drive. Once we started playing Tiger football we were able to get it rolling."
The Irish got on the board first with a 31-yard Daniel Kamara touchdown run to give Central an early 6-0 lead where the score would stand after one period of play.
Exzaviar Moody set up Ansonia's first score of the night with a 50-yard carry to the Irish 2-yard line and Keagan Weiss scoring on a 2-yard touchdown run. Moody carried for the 2-point conversion giving the Tigers an 8-6 lead at 11:33 on the second quarter clock.
Weiss rambled for a 24-yard gain setting up a 1-yard (6-inch) Ian Schmitmeyer quarterback keeper good for the Tigers second TD of the night. Moody made good on the 2-point conversion run giving Ansonia a 16-6 lead at 6:09 in the second.
Ansonia's Landyn Bowman intercepted a Central pass a 4:38 in the second giving the Tigers possession at its own 38-yard line setting up a 5-yard Weiss touchdown run at 1:13 on the second quarter clock followed with a Schmitmeyer to Weiss 2-point conversion pass upping Ansonia's first half lead to 24-6.
A flurry of three interceptions over a period of 0:26 included Bowman's second interception of the night at 0:43; an Irish interception at 0:27 and a Garrett Stammen interception with 0:17 remaining on the first half clock.
"We had a ton of turnovers tonight," Coach Hall stated. "It is just a testament to the guys we got back there. "Bowman has made plays back there all year. Trent (Trendon Spence) has made plays back there all year. Kadyn Edwards has done a really good job for us. Trevor Hemmerich does a good job covering for us. The back end has been good for us."
The Tigers picked up second half play where they left off the second quarter with Moody scoring on a 3-yard run at 5:24 in the third with Weiss making good on a 2-point conversion run for a 32-6 lead.
Moody came back with a 15-yard third quarter touchdown run at 0:07 to make in at 38-6 Ansonia lead with the teams heading to the final period of play with a running game clock.
The final score of the night came a 5:13 in the fourth with Moody scampering for a 6-yard TD and a Stammen 2-point conversion run giving the Tigers a 44-6 while the defense was keeping the Irish scoreless over the final three quarters of play.
"Playing good defense outside of the second drive of the game," Hall said of the team's formula for success. "Offensive line was getting off the ball, they were switching up a little bit on defense, we got that worked out and then once we knew what we were doing we can move the ball."
Ansonia faces New Bremen in round three at Greenville's Harmon Field, Saturday, Nov. 12 with a 7 p.m. start time.
"We can't have any of the mistakes we had tonight," Coach Hall said of the round three. "If you're going to play and beat New Bremen, we know we have to be perfect or as close to perfect as you can be, but we got the guys. We'll came back and practice hard this week and give it our best shot."