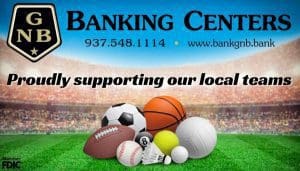 GREENVILLE – The Versailles Tigers won a 59-47 non-conference win over the Greenville Green Wave.
Versailles took the opening quarter 19-7 and period No. 2 by a 14-10 score to take a 33-24 lead to the halftime break.
The Tigers outscored Greenville 17-15 in the third period with the Wave battling back to take the fourth quarter 15-9.
Connor Stonebraker led Versailles and all scorers with a game high 17-points while Jarrod Demange paced Greenville with 16-points.
BOXSCORE:
VERSAILLES 59, GREENVILLE 47
VERSAILLES – C. Stonebraker 17, AJ Griesdorn 14, J. Watren 11, D. Ahrens 7, E. Dickey 6, L. Stammen 4 – TOTALS 19 6-15 5 59
GREENVILLE – J. Demange 16, D. Hamilton 8, E. Brenner 6, H. Livingston 6 L. Hocker 3, AJ Shaffer 2, TJ Barr 2, R. Staver 2, C. Drew 2 – TOTALS 15 5-9 4 47
3-POINTERS
Versailles 5 (J. Watren 3, AJ Griesdorn 1, C. Stonebraker 1)
Greenville 4 (J. Demange 2, Brenner 2)
SCORE by QUARTERS
19-14-17-09 59 Versailles
07-10-15-15 47 Greenville