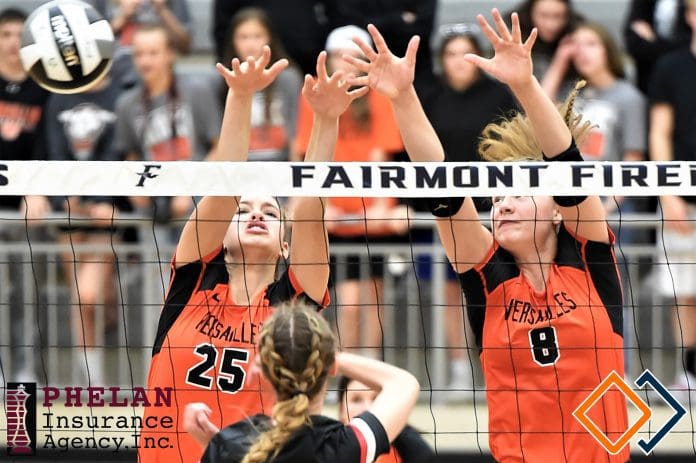 KETTERING – The Versailles Lady Tigers came out strong in the first round the OHSAA DIII Regionals to advance to the Elite 8 with a 3-0 volleyball win over the Cardington-Lincoln Lady Pirates.
"Everybody did their job tonight," said Versailles coach, Liz McNeilan. "Everybody came prepared, our back row didn't let very many balls hit the ground. Defensive wise tonight, serve receive wise – everybody stepped up."
The Lady Tigers were coming off their 10th consecutive District Championship and closed out the night with its sixth Regional Final appearance giving the battle of the nerves advantage to Versailles.
"You get to this point and everybody is a little bit nervous," McNeilan stated. "There's a lot on the line but also it's an exciting time. We were trying to let our girl's use that as fire, use that as domination opportunities and they were able to do that."
"That opened the gates for them to be a little bit more aggressive and capitalize on some of those plays," she added.
Versailles set the tone for the night bolting out to a double digit 15-5 first set lead on its way to a 25-13 win.
The Lady Tigers set No. 2 strong play at the net earned Versailles a 25-16 set win giving the Darke County girls a 2-0 lead.
"Our goal is to score in chunks," McNeilan said. "We had a lot of hard drills this week in focusing on not getting just one point, but let's get the second and third and capitalize and not let them get two in a row. The girls did a great job executing that."
Cardington had its best performance of the night with the exception of a 'red card' called on the bench costing the Lady Pirates a point in the third, but was not enough to keep Versailles from winning the final set 25-21 and advance to the Regional championship match.
"We'll take it – It's always more fun when the girls earn it," Coach McNeilan said of Cardington's red card. "Don't want to focus on that but I was proud of the girls executing tonight."
"It's fun," Coach McNeilan said of again reaching the Elite 8. "It gets those nerves going, it gets the excitement going and it's fun to hear everybody from the community, it's fun to see everybody here, it's a good time for the girls. I'm happy for them, they deserve it, they worked hard."
The Lady Tigers will take on Cincinnati Summit Country Day, Saturday at Kettering's Trent Arena with a 2 p.m. start time. Country Day defeated the Miami East Lady Vikings 3-2 in a tightly played Regional match.
Miami East won the opening set 29-17 with Country Day rebounding to take Set No. 1 and 2 by 25-15 and 25-20 scores. The Lady Vikings made it 2-2 sending the match to a fifth and final set with a 25-20 fourth set win. Country Day won the fifth and deciding set with a 17-15 overtime win.