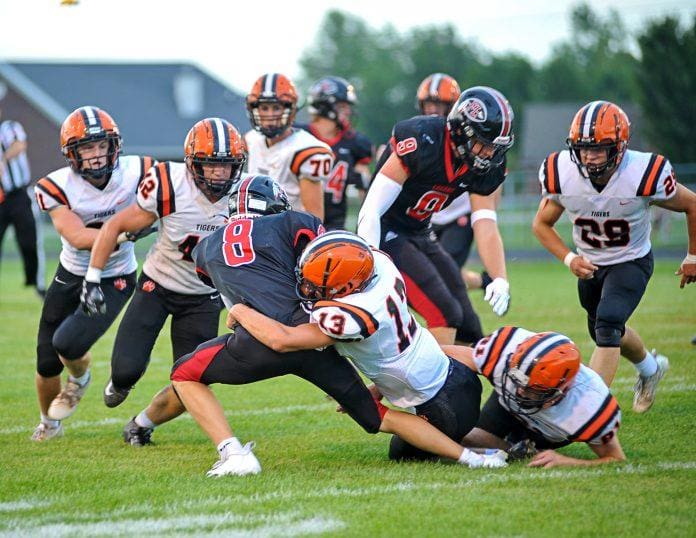 FORT LORAMIE – The Versailles football team improved to 2-0 on the season with another shut out. This time The Ft. Loramie Redskins were the victims as the Tigers scored 35 points all in the first half.
The Tigers welcomed back Joel Gehret to full action as he scored on 30-yard touchdown run, last week he just saw action kicking.
"Joel had a nice run, broke it outside and then turned on the jets," Coach Jones said. "Nice to have Joel back, see him on the field and get a touchdown."
Fort Loramie fumbled on their first play and the Tigers recovered.
Michael Osborne scored on a 22-yard run with 8:39 left in the first quarter to put the Tigers up 14-0.
The Redskins put together a nice drive from their 29-yard line moving it down to the Tiger 10 only to see Ross Francis intercept the ball and returning it to the Tiger 32-yard line.
Jace Watren then hauled in a 39-yard pass putting the Tigers up 21-0 to end the first quarter.
Francis would score on a four-yard run to put the Tigers up 28-0 in the second quarter.
That was followed up by A.J. Griesdorn scoring on a 13-yard pass from Osborne with 23 seconds left in the first half.
The second half was played with a running clock. The Tigers stopped the Redskins on their opening drive of the second half, and then began substituting players freely.
The Redskins were held to 86 yards rushing and 62 yards passing for a total of 148 yards.
I'm really proud of our defense tonight." Jones said "We were able to get the young guys quite a bit of work. Happy with the way they played."   The Tigers had 192 yards rushing and 94 yards passing for a total of 244 yards. The Tigers will travel to Delphos to take on the St. Johns Blue Jays this Friday.