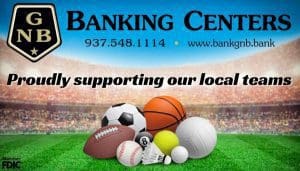 VERSAILLES – Versailles boys basketball team competed hard and made several comebacks verses Delphos St. Johns but in the end the Delphos guard play and defensive quickness was too much to overcome with Versailles falling 56-45.
The opening quarter was high intensity with several ties, the last being 10-10 as the Versailles guards Jace Watren & Drake Ahrens aggressively attacked the Delphos defense.  Watren had 4, Ahrens 3 and Connor Stonebraker 3 in the opening frame.
The Blue Jays countered with freshman guard Cameron Elwer with eight points and three triples; two from senior Landon Grothaus to pull ahead 17-12 at the end of the quarter.
"We came out with a lot of energy which is what we have do as a young team, tonight we were engaged and ready to go and played a good 1st quarter … but Delphos is a really good team and made some big shots at the end of the quarter," Versailles coach Travis Swank said.
Trailing 20-10 early in the 2nd period the Tigers got back-to-back scores on drives from Watren & Ahrens followed by a triple from Stonebraker.  Moments later Joe Ruhenkamp got a lay-up as the Tigers clawed back to 22-19.
The Blue Jays weathered the Tigers run and fired back on a triple from Aaron Moenter and two treys from Elwer including one at the buzzer to end the half going back up  32-23.
The Tigers came out in the 3rd quarter determined to get touches inside to Stonebraker who had a sizeable advantage.  But Delphos was double and triple teaming Stonebraker which gave Warren a chance to attack the basket.
That plan yielded some early results along with the Tigers defense chipping in forcing a few turnovers one leading to a two-handed dunk by AJ Griesdorn bringing the bench, student section and fans to their feet and into the game.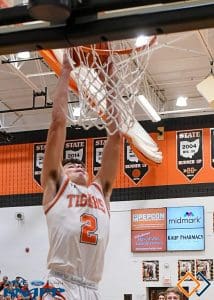 Versailles closed the gap to 35-32 however, they came up empty handed in their next 3 possessions leaving the door open for Delphos and freshman Elwer busted through making some tough shots scoring 10 points surging to a 44-32 lead at the end of the 3rd quarter.
"Basketball is a game of runs and you hope to sustain your own run as long as possible, and hope to eliminate theirs quickly," Swank said.  "We had a great run but didn't stop them and that was really the difference in the ballgame," Swank added.
Versailles Connor Stonebraker got a steal and a big throw down in the 4th quarter hoping to ignite the home team, but the Tigers couldn't put together another run as the Blue Jays went on to win the game 56-45.
After the game Coach Swank noted they couldn't get the job done tonight.
"Sometimes good players make good plays and their good players stepped up and made some tough shots. They have two really good guards one had a good game and the other just happened to go off here tonight and that was the story here tonight," Swank exclaimed.
But Swank saw some positives from his guard play out front.
"I was impressed with Jace and Drake tonight," Swank stated.
"Jace, especially early in the game ripped the ball through and went to the hole, a lot of people think he is just out there to be our shooter and percentage wise he is from three, but he does a lot of good things when he drives as well," Swank commended.
Jace ended the game with 12 points.
"Drake's strong suit is getting to the basket and getting his teammates involved. He's crafty, does a really good job and can makes those scoop shots, we just need him to get comfortable taking that outside shot.  He works on it constantly and comes in early Tuesdays and Thursdays to get shots up," Swank praised.
It was the first time all season that freshman Drake Ahrens finished with double digits with 10 points tonight.
Connor Stonebraker was held 8 below his average due to double and triple teams but still had a double double with 15 points and 12 rebounds.
The big story of the game was freshman Cameron Elwer who led all scorers with 26 points and drew the praise of coach Swank as well.
He has the complete package, he's confident out there. It wasn't like we weren't physical on him. We were pretty physical on him all night long and he was willing to battle and bang.  So, you can tell he's played a lot of basketball. He's seen and played lot of basketball being the coach's son that sure does help your growth and development as a player and he's going to be a force in the MAC for a long time," Swank concluded.