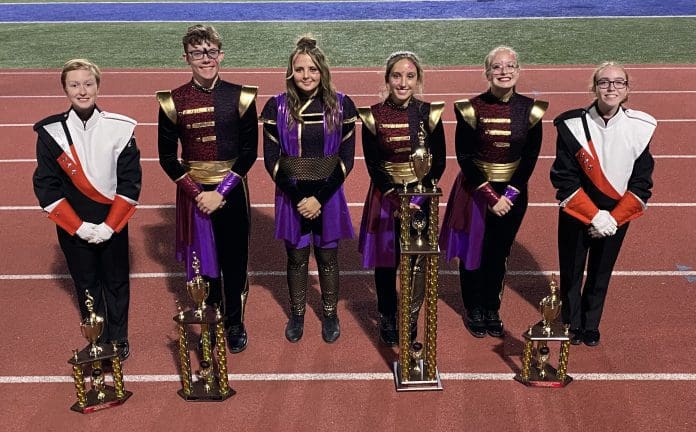 By Chad Peyton
Band Publicity Chairman
VERSAILLES—The Versailles High School Marching Band had an immensely successful season, thus far, and this past Saturday, they showed no signs of letting up.
The Tiger band dominated their class, bringing home several top trophies in the process. The band was honored with trophies for both Best Percussion and Best Auxiliary in Class B along with First Place in Class B, beating out Arcanum and Clinton-Massie, who placed second and third, respectively. To top it off, Versailles also took home the honor of Grand Champion for Classes B/C. Aside from all the hardware the band earned, they also received their third Superior rating of the season. And, like last week, they were again awarded straight Superiors from the judges.
Goals for the band are different when you start the season as strongly as this year's band has. but ultimately they still all boil down to one thing….improvement.
"We received straight Superiors last week," Director of Bands, Ronda Stamen said. "It's hard to say we need to work on raising our overall rating. Instead, we discussed how we want to raise our point values. Point values are what determines our placement and factor into which awards the band earns. We definitely achieved that this week. We were given very high point values. In fact, one of the music judges gave us some of the highest points the band has ever received! The judges were very complimentary towards us. They complimented our soloists and they really appreciated our tone and the musicality of the entire band."
Indeed, this was a monumental evening for the VHS Band. The point values they received are, indeed, the highest the band has seen in, most likely, at least the last 20 plus years. It's been at least since the 1990's that the band has received straight Superior ratings at back to back competitions in the same season! This is a true testament to the hard work and effort these students have put forth this year.
"I am super proud of the kids and all they've done," Stammen said. "My staff of directors and instructors work just as hard to help get the kids where they need to be. It's a true team effort."
Results like these will help the band moving forward, especially at State. Judges can and will look at recaps from a band's prior competitions and see, not just the ratings, they have earned, but also those point values. Multiple Superior ratings and high point values give the VHS Band credibility in the eyes of the adjudicators. Now the band must continue to move onward and upward.. Mrs. Stammen and her staff will have the band working to improve where things need improvement. It is those areas in which the band can capitalize on opportunities to raise their scores in the future.
"We still need some polishing on Part Three of our show," Stammen said. "We didn't focus as much on it this past week and I want to see us clean a few spots up on it. Also, fundamentals need a little attention, as well. Some of the judges commented on our upper bodies while marching. We have a little bit of bobbing as we march, so we can work on that, too. It never hurts to spend time on the fundamentals!"
The band has one more regular season competition ahead of them before they travel to State. The band will compete this Saturday in the Tecumseh Showcase of Bands in New Carlisle, where they will be one of fifteen bands competing for trophies and one final Superior rating before State. Come out and support the "State Bound" VHS Marching Band.