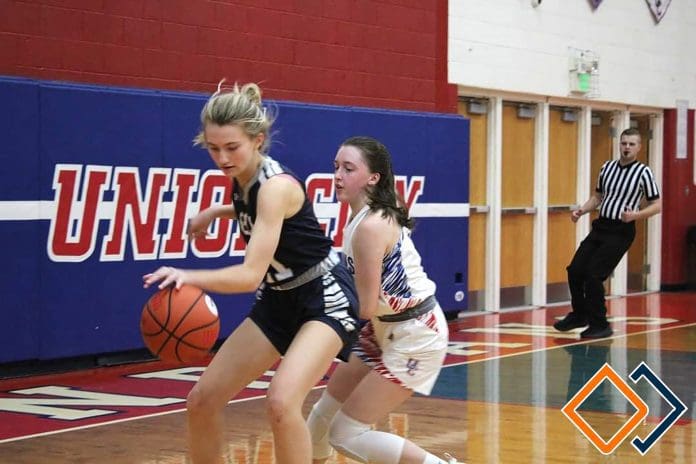 UNION CITY, IN – The Union City Lady Indians dropped a 53-30 County Tournament championship game to the Winchester Lady Falcons.
The Lady Indians battled hard in putting up a good fight against Winchester but could not overcome the Lady Falcons' solid play and 3-point shooting.
Winchester took the opening quarter 20-9 and used a 14-8 second quarter score to lead 34-17 at the break.
The Lady Falcons extended its lead to 48-23 after three complete with Union City taking the final quarter 7-5.
Campbell led Winchester and all scorers with a game high 27-points. O Reichard paced the Lady Indians with 14-points.
The Lady Indians move to 8-11 on the season and will play next at Union County on Saturday with a 6 p.m. JV start time.
BOXSCORE:
WINCHESTER, IN 53, UNION CITY, IN 30
WINCHESTER, IN – Campbell 27, Riggin 9, McCoy 8, Craw 3, Mote 3, Hummel 2, Friend 1 – TOTALS 12 11-15 6
UNION CITY, IN – O. Reichard 14, C. Fischer 8, A. Black 3, G. Ordonez 3, S. Smith 2 – TOTALS 7 10-14 2 30
3-POINTERS
Winchester, IN 6 (Campbell2, Riggin 2, Craw 1, Mote 1)
Union City, IN 2 (O. Reichard 1, G. Ordonez 1)
SCORE by QUARTERS
20-14-14-05 53 Winchester, IN
09-08-06-07 30 Union City, IN