NEW MADISON— The Tri-Village High School Archery took home first place at the State Archery Competition on Sunday, March 12.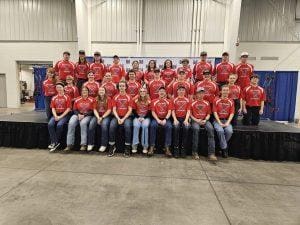 The team also earned the highest score in all of Ohio.
The team shot a team school record of 3316. They took first place out of 26 teams at the Bullseye tournament. We had three high school individuals place in the top 10: Rayna Kauffman shot a 287, placing third overall high school girls, Elizabeth Moss shot a 286, placing fifth over all the high school girls, and Stephen Derksen shot a 286, placing 7th over all the high school boys. The high school team also took the grand champion score of the entire tournament for having the highest score of the tournament.
All three teams should qualify for the National Bullseye NASP tournament pending spots for each team.
The elementary team put in a good effort at the Ohio Bullseye NASP Archery tournament, shooting a team score of 2544. They had one team member place in top ten: Wyatt Blanton placed sixth with a score of 271 overall for the Elementry boys.
The middle school team put in a good effort as well with a team score of 3123.