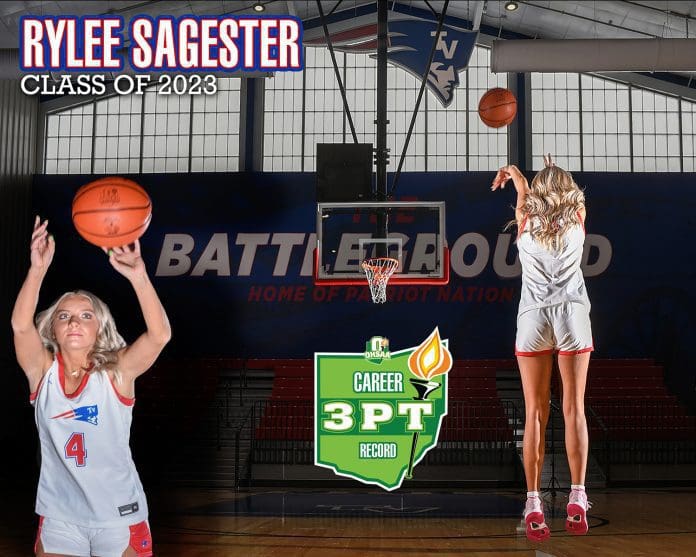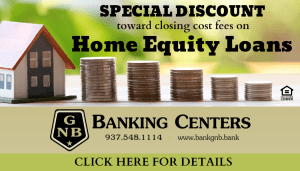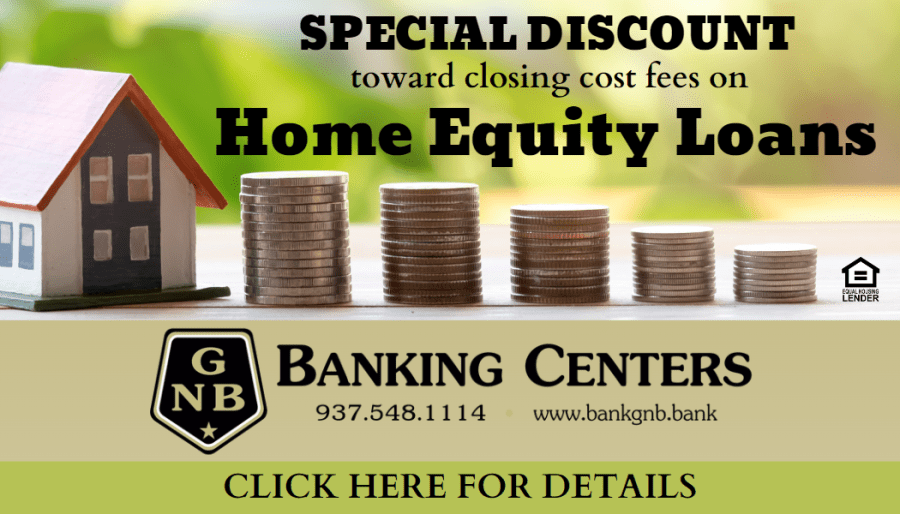 The recognition for Rylee Sagester continues this year as the senior sharpshooter along with her Tri-Village teammates prepare to take on Marion Local in the DIV Regional Semi-Finals at Vandalia High School Thursday night at 6pm.
Rylee was the WOAC Player of the Year, District 9 Player of the Year, All-Southwest Ohio  Player of the Year and a candidate for DIV player of the year and now the prestigious Ohio Ms. Basketball.
"I'm thrilled to be a candidate and represent Tri-Village and our community.  This distinction comes from playing on a great team with great teammates and coaches," Sagester stated.
Sagester is familiar with all the other candidates having either played on an AAU team with or against them over the years and knows she is in great company.
"To be mentioned in the same conversation with all these great players is rewarding and I'm honored," Sagester concluded.
News Release – Ohio Prep Sportswriters Association
For Immediate Release – March 1, 2023
Ohio Ms. Basketball Finalists Announced by OPSWA
COLUMBUS, Ohio – The Ohio Prep Sportswriters Association has announced the finalists for the 2023 Ohio Ms. Basketball Award. The winner will be announced next Wednesday, March 8.
Voting is currently underway for the 216 registered OPSWA members and will end at noon on Monday, March 6.
The voting process is nearly identical to that used to determine the Heisman Trophy winner in college football. First place votes get three points, second-place votes get two points and third-place votes get one point.
Ohio's Ms. Basketball was selected by the Associated Press from 1987-2016. Since 2017 it has been presented by the Ohio Prep Sportswriters Association.
The OPSWA All-Ohio teams will begin being released on Monday, March 20.
2023 Ohio Ms. Basketball Finalists
Finalists listed in alphabetical order.
OPSWA membership voting ends at noon Monday, March 6.
Winner announced Wednesday, March 8.
Dee Alexander, 6-1, sophomore forward, Purcell Marian
District 16 and MVC Player of the Year. 26.2 ppg, 10.1 reb, 2.6 ast, 2.4 stl. Led the Miami Valley Conference in points per game, field-goal percentage (57.8) and steals (3.9) this year. Has 12 double-doubles and scored a season-high 42 points in a loss to Sacred Heart, the No. 1 ranked team in Kentucky. Has scored 1,265 career points heading into the regionals. Was OPSWA D-III State Player of the Year as a freshman and a MaxPreps Freshman All-American when leading P-M to state title. Is ranked as the No. 2 player in the Class of 2025. Holds 30 scholarship offers, including Kentucky, Iowa, Southern California, Baylor and Arizona.
Sinai Douglass, Toledo Start, 5-4, jr. G
A 5-foot-4 junior point guard, Douglas averaged 16.8 points, 6.3 rebounds, 5.3 assists and 5.3 steals per game for a Spartans team that finished 21-3 and with a No. 10 ranking in the final Associated Press state poll. Douglas was also an All-Ohio first team selection in 2021-22 as a sophomore, and is now a two-time Toledo City League and Northwest District Player of the Year. She has full-ride offers to Iowa, Toledo, Bowling Green and Xavier among others.
Madison Greene, Pickerington Central, 5-7, sr. G.
A Vanderbilt signee, Greene is considered the top player on a top-seeded 22-4 team that won an eighth consecutive district championship. Entering regional play she was averaging 15.2 points, 3.0 rebounds, 3.0 assists and 4.0 steals while shooting 42 percent from the field (32 percent from three-point range).
Saniyah Hall, Shaker Heights Laurel, 6-0, fr.,
20.8 ppg: NE Lakes District POY in Division III. Ranked as one of the top 9th-graders in the nation, she has the size of a post player but the skills of a guard. In compiling a 14-6 record, Laurel faced the most difficult schedule of any team in any division, according to MaxPreps and the Martin RPI website. While facing that schedule, the 14-year-old also averaged 9.1 rebounds, 4.2 steals, 2.6 assists and 1.6 blocks per game and shot 53% from the floor.
Rylee Sagester,  New Madison Tri-Village, 5-6 Sr.
21.7 ppg, 4.2 ast, 2.4 stl, 51% FG, 41.9% 3pt, 78% FT (WOAC POY) 3x First Team AP Southwest District (POY in 2022).1st Team All Ohio in 2022, 2nd Team All Ohio in 2020, and 3rd Team All Ohio in 2021. WOAC POY in 2022 and 2023. District 9 Division 4 POY 2023. Voted to the Ohio North/South All Star Game. Has currently scored 1851 career points. School record holder for made 3s in a career with 370 (broke state record).
Corri Vermilya, Loudonville, 5-9, jr. 
Averaged 29.5 PPG, 12.7 RPG, 3.1 APG, 6.5 SPG for league champion and district semifinalist … Scored 59 in a 71-68 win over OCC co-champ Mansfield Senior … Three 40+ performances … Ashland U commit … Mid-Buckeye Conference Player of the Year, District 4 Player of the Year.
Reagan Vinskovich, Belmont Union Local, 6-2, Senior
22.4 ppg, 12 rbpg, 3 apg, 2,5 spg; 57% FG; 66%FT; 2,000-plus career points, 1,000-plus career rebounds; 4-time 1st team all-Eastern District; 4-time 1st team all-OVAC; OHSBCA North-South All-Star Game selection; OVAC All-Star Game selection; Team is D-III Sectional/District  champion and 25-1 as of this submission; Team won OVAC Class 3A title (she was MVP; won Buckeye 8 title; 3rd team all-Ohio as junior (avg 16 pts/9rb); 2nd team all-Ohio as sophomore (avg 22 pts/12 rb); 2nd team all-Ohio as freshman (avg 19.5 pts/11.6 rb); Team reached D-III 'Final Four' in 2002 (25-4); is 25-1 this season (thru district);Academic All-OVAC; Going to West Liberty University (D-II)
Information about the OPSWA is available at: https://www.ohsaa.org/news/OPSWA
Past Ohio Ms. Basketball Ohio winners
2022 – KK Bransford, Cincinnati Mount Notre Dame, senior
2021 – KK Bransford, Cincinnati Mount Notre Dame, junior
2020 – Madeline Westbeld, Kettering Fairmont, senior
2019 – Kierstan Bell, Canton McKinley, senior
2018 – Kierstan Bell, Canton McKinley, junior
2017 – Kierstan Bell, Canton McKinley, sophomore
2016 – Jensen Caretti, Hannibal River, senior
2015 – Hallie Thome, Chagrin Falls, senior
2014 – Kelsey Mitchell, Cin. Princeton, senior
2013 – Ashley Morrissette, Twinsburg, senior
2012 – Ameryst Alston, Canton McKinley, senior
2011 – Ameryst Alston, Canton McKinley, junior
2010 – Natasha Howard, Tol. Waite, senior
2009 – Kendall Hackney, Cin. Mount Notre Dame, senior
2008 – Amber Gray, West Chester Lakota West, senior
2007 – Jantel Lavender, Cleveland Central Catholic, senior
2006 – Tyra Grant, Youngstown Ursuline, senior
2005 – Maria Getty, Dayton Chaminade-Julienne, senior
2004 – Mel Thomas, Cincinnati Mount Notre Dame, senior
2003 – Brittany Hunter, Columbus Brookhaven, senior
2002 – Barbara Turner, Cleveland East Tech, senior
2001 – Michelle Munoz, Mason, senior
2000 – Michelle Munoz, Mason, junior
1999 – (TIE) Kaayla Chones, Eastlake North, senior; LaToya Turner, Pickerington, senior
1998 – Tamika Williams, Dayton Chaminade-Julienne, senior
1997 – Semeka Randall, Garfield Hts. Trinity, senior
1996 – Semeka Randall, Garfield Hts. Trinity, junior
1995 – Beth Ostendorf, Pickerington, senior
1994 – Na'Sheema Hillmon, Garfield Hts. Trinity, senior
1993 – Marlene Stollings, Beaver Eastern, senior
1992 – Katie Smith, Logan, senior
1991 – Vonda Ward, Garfield Hts. Trinity, senior
1990 – Vonda Ward, Garfield Hts. Trinity, junior
1989 – Carol Madsen, Reading, senior
1988 – Janet Haneberg, Cincinnati Seton, senior