NEW MADISON – The Tri-Village Patriots welcomed WOAC conference foe the Newton Indians for a conference matchup. The Indian tribe had scouted well for battle and began the game with the initial momentum, but the considerable firepower of the Patriots in the end easily advanced Tri-Village to their second conference victory, and third overall. The final score would read 79-34.
Tanner Printz landed the first shot with a corner three. Despite the quick first score, the rim would seem tighter for the next few minutes for the Patriots.  The Indians would go on the offensive, led by Quinn Peters and Hudson Montgomery getting some buckets in close to the rim. Harold Oburn would contribute 4 points as well from the charity stripe. Newton led at one point 12-3, as their defensive strategy slowed the pace of Tri-Village.
Tri-Village seniors Dalton Delong and Wilson Suggs got things rolling later in the quarter, Suggs with a 3 and Delong had multiple baskets totaling 9 points as the Patriots closed out the first quarter with a slim 15-14 lead.
The Patriots would not look back after regaining the lead at the close of the first frame, with a Suggs triple that was followed by 3 in a row from Trey Sagester on three straight possessions. The Patriots defense slowed the Indian offense, stifling Newton to 6 points in the 2nd quarter and completing the first half with a 35-20 lead.
The third quarter was high octane from Tri-Village as Delong extended the Patriot lead, contributing 4 triples along with 6 additional Patriots making contributions as the team collectively put up 30 points in the quarter.
Quinn Peters attempted to match the rain from long-range contributing two of his own for the Indians and 8 points in the quarter, but it was not enough to keep his team close as the Patriots extended their lead to 65-34 entering the final stanza.
Tri-Village defense held Newton scoreless in final period while adding 14 more to walk away with a 79-34 victory.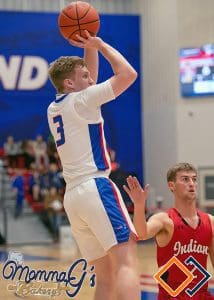 Tri-Village is now 3-0 (2-0) on the season and will be on the court again Sunday evening at the Flyght Academy Shootout held at Trotwood Madison High School where they will take on Dunbar with a tip-off time of 6:00 pm.
Newton Indians record now stands at 2-2 (1-1). Newton will have the rest of this weekend off and returns to action next Friday night at home against another conference opponent, Mississinawa Valley.
Peters 12 Montgomery 10, Delong 25 Trey 14 Suggs and Printz 9 each Finkbine and Keating 6 each.
BOX SCORE:
Score By Quarters:
Newton           14        06        14        00 – 34
Tri-Village        15        20        30        14 – 79
Team Scoring:
Newton: Peters 12, Mongtomery 10, Schauer 2, Kelley 2, Oburn 6, Newhouse 2
Tri-Village: Sagester 14, Delong 25, Suggs 9, Call 4, Printz 9, Keating 6, Wehr 4, Finkbine 6,            Camden Cook 2