NEW MADISON – The Tri-Village Lady Patriots made easy work of keeping its 2022-23 season perfect with a 67-28 non-conference win over the Valley View Lady Spartans basketball team.
The Lady Spartans were coming off a 60-54 Monday night win over the undefeated Preble Shawnee Lady Arrows while Tri-Village entered the night with a 4-0 season mark.
"A pretty good performance from our kids tonight," said veteran Tri-Village coach, Brad Gray. "Valley View is a team that is going to win a lot of games in their league. They had a big win last night against Preble Shawnee who I think is a really good basketball team so we came in prepared for a battle."
The Lady Patriots started slow leading 8-6 midway through the opening quarter before closing out the first quarter 13-8 with Rylee Sagester canning the first of her four 3-pointers on the night and two 2-point buckets for 7-points to go along with four Torie Richards points and a basket from 6'3" freshman Kynnedi Hager.
"Our kids were excited and ready to go and even though things didn't go our way the first half of the first quarter," Gray stated. "At that point our energy and our effort was real good and because we were playing hard and doing things the right way the tide kind of turned our way about midway through the first quarter. We were able to keep it going for the remainder of the game."
Second quarter play went to the much quicker Lady Patriots by a 20-7 count with Valley View struggling against the Tri-Village smothering defense. Sagester had the second quarter hot hand burying three treys and a 2-pointer to lead TV with 11 points sending the teams to the break with the Lady Patriots 33-15.
"The energy we brought from the defensive end was making them extremely uncomfortable," said Gray. "Our rotations were pretty good, we were getting a lot of touches defensively and getting them out of rhythm offensively which helped us out."
Tri-Village continued to excel on both ends of the court outscoring the visitors 22-7. Richards was on fire drilling four triples while going 2-2 at the line to lead the Lady Patriots with 14 third quarter points and a TV 55-22 lead with one quarter to play.
Nearly the entire fourth quarter was played with a running clock as the Lady Patriots would extend its lead to 63-23 at the 4:27 mark with Coach Gray pulling his starting lineup.
"We are starting to gel," noted Coach Gray. "Obviously Torie (Richards), Rylee (Sagester), Morgan (Hunt), those three have played a ton of basketball together but our younger kids really haven't played a whole lot with them with the exception of Bella (Black). After Belle we're playing a couple freshmen and Kiersten Wilcox, a junior who hasn't really played high school basketball until this year because of injuries."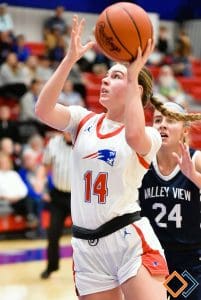 Sagester and Richards led Tri-Village with 20 points each. Black paced the Lady Patriots with eight rebounds.
The Lady Patriots return to action Thursday, December 1st with a home conference matchup with Tri-Country North with a 7:15 p.m. tipoff.
BOXSCORE:
TRI-VILLAGE 67, VALLEY VIEW 28
TRI-VILLAGE – R. Sagester 20. T. Richards 20, M. Hunt 11, K. Hager 7, B. Black 5, S. DeLong 2, K. Wilcox 2 – TOTALS 18 4-6 9 67
VALLEY VIEW – R. Hodson 9, E. Reed 6, M, King 5, Lemke 4, A. Jennings 4 – TOTALS 11 3-6 1 28
3-POINTERS
Tri-Village 9 (R. Sagester 4, T. Richards 4,
Valley View 1 (King 1)
SCORE by QUARTERS
13-20-22-12 67 Tri-Village
08-07-07-06 28 Valley View