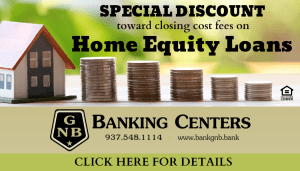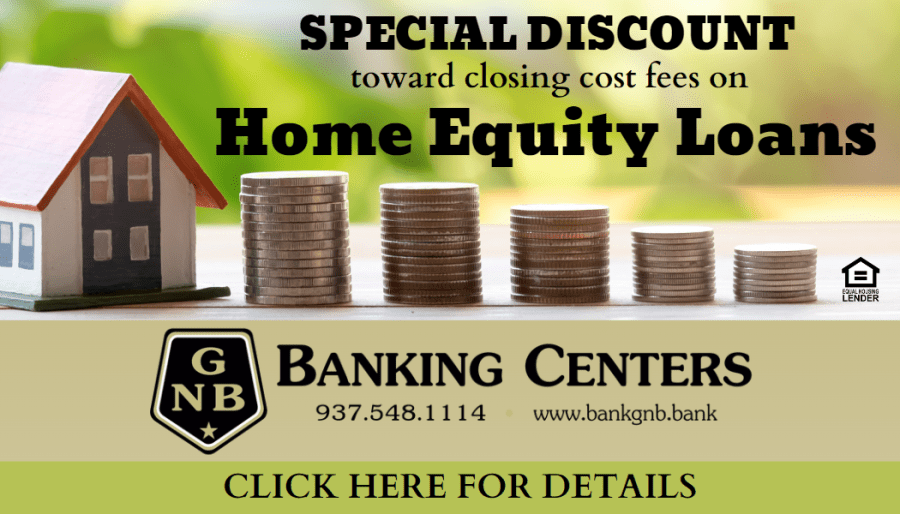 COLUMBUS, Ohio – The Division III and IV girls basketball All-Ohio teams were announced Monday by the Ohio Prep Sportswriters Association.
Ohio Prep Sportswriters Association can be found at: https://www.ohsaa.org/news/OPSWA.
The OPSWA was created in 1972 to support, promote and recognize coverage of high school sports across Ohio and is endorsed by the Ohio High School Athletic Association.
The Tri-Village girls basketball team on the brink of their 30-0 State Championship run – head up the list of DIV All-State Honors.
Tri-Village senior Rylee Sagester an Ohio Ms. Basketball Runner-up was the DIV State Player of the Year.  Brad Gray was DIV State Coach of the Year.  Senior Morgan Hunt joined Sagester as a 1st team All-State selection, while senior Torie Richards was named 3rd team and freshman Kynnedi Hager was honorable mention All-State.
Mississinawa Valley finished the season 20-4 and the best record in school history before falling in the 2ndround of the OHSAA tournament after an injury plagued sophomore point guard Taylee Woodbury.  Woodbury was named to the 3rd team and junior teammate MacKenzie Townsend were honorable mention All-State.
Versailles junior Jenna Dirksen was a DIII honorable mention All-State.
2023 Division IV Girls Basketball All-Ohio Teams  
Player of the Year: Rylee Sagester, New Madison Tri-Village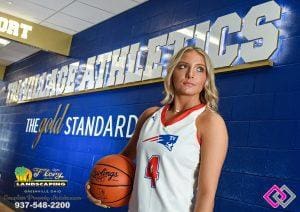 Coach of the Year: Brad Gray, New Madison Tri-Village
First Team: Maddie Powers, Malvern, 5-6, sr., 25.8 (points per game); Kelsey Harlan, Hannibal River, 5-5, jr., 20.0; Rylee Sagester, New Madison Tri-Village, 5-6, sr., 21.7; Morgan Hunt, New Madison Tri-Village, 5-10, sr., 14.4; Ava Turner, Fort Loramie, 5-7, sr., 11.5; Annie Dettwiller, Portsmouth Notre Dame, 6-1, sr., 11.7; Kendall Braden, Toledo Christian, 5-8, jr., 22.4; Shelby Grover, Lucas, 5-9, sr., 22.0; Sophia Kline, Sugar Grove Berne Union, 6-2, sr., 21.4; Kara McFadden, Fairport Harbor Fairport Harding, 5-3, sr., 28.0; Jacey Mullen, New Middletown Springfield, 5-10, sr., 17.2
Second Team: Ashley Mullet, Berlin Hiland, 5-6, jr., 16.7; Reese Triplett, New Philadelphia Tuscarawas Central Catholic, 5-8, sr., 19.0; Cece Borchers, Russia, 5-9, sr., 12.9; Morgan Lyons, Crown City South Gallia, 5-8, jr., 16.8; Mackenzie Royal-Davis, Toledo Christian, 6-0, jr., 15.4; Cali Gregory, Convoy Crestview, 5-10, jr., 20.3; Ellie Bruce, Lancaster Fisher Catholic, 6-2, jr., 16.6; Baylee Mirgon, Sugar Grove Berne Union, 5-11, sr., 16.0; Alyssa Cevera, Ashtabula St. John, 5-6, jr., 19.5; Ashley Shroades, Salineville Southern Local, 5-4, jr., 25.0
Third Team: Mya Leach, Sarahsville Shenandoah, 5-6, jr., 18.4; Riley Thomas, Strasburg-Franklin, 5-11, so., 15.1; Torie Richards, New Madison Tri-Village, 5-7, sr. 12.7; Taylee Woodbury, Union City Mississinawa Valley, 5-4, so., 15.7; Kelsey Vollrath, South Charleston Southeastern, 6-0, sr., 17.1; Ryley Kantzer, New Washington Buckeye Central, 5-7, sr., 10.0; Macey Bauder, Elmore Woodmore, 5-4, sr., 16.2; Whitney Langhals, Leipsic, 5-5, sr., 14.2; Nisey Darden, Richmond Heights, 5-10, jr., 11.0; Katie Grexa, Badger, 5-10, jr. 20.0; Maren McCallister, Circleville New Hope Christian, 5-11, sr., 24.5
Special Mention: Lauryn Auchmuty, Columbus Grove, 5-7, so., 17.2; Alexis Rippel, Mansfield Christian, 5-9, sr., 17.9; Kate Siesel, New Washington Buckeye Central, 5-6, sr., 14.0; Avae Unrast, Maria Stein Marion Local, 5-6, so., 10.8; Emilee Rowland, New London, 5-10, jr., 11.7; Grace Lamoreaux, Greenwich South Central, 5-8, jr., 10.6; Sage Woolace, Stryker, 5-3, sr., 17.9; Carlie Foos, Kansas Lakota, 5-5, sr., 13.4; Ally Schindler, Defiance Ayersville, 5-10, jr., 13.2; Libbie Baker, West Unity Hilltop, 6-1, so., 20.7; Ada Christman, Hamler Patrick Henry, 6-0, fr., 8.9; Alyssa Rishty, Tiffin Calvert, 5-9, so., 17.9; Emily Klopp, Sycamore Mohawk, 6-3, sr., 14.0; Ady Stewart, Carey, 5-8, sr., 12.7; Chloe Homan, New Bremen, 6-0, jr., 12.5; Kendall Sury, Waterford, 5-8, so., 10.3; Kenzi Ferneau, Latham Western, 5-3, sr., 18.1; Cadence Williams, New Boston Glenwood, 5-8, sr., 19.0; Voni Bethel, Lancaster Fisher Catholic, 5-7, jr., 12.9; Madilyn Elson, Mount Gilead, 5-4, sr., 13.8; Addy Beard, Delaware Christian, 5-9, so., 13.6; Kyle Gibson, Newark Catholic, 5-7, jr., 14.0; Gentry Brown, Shadyside, 5-9, sr., 19.0; Rylee Putt, Sugarcreek Garaway 5-2 sr., 13.7; Rilee Terry, Lewisburg Tri-County North, 6-0, sr., 12.0; Angela Jones, Felicity-Franklin, 5-5, sr., 21.2; Kinyia Lindsay, Cincinnati St. Bernard-Elmwood Place, 5-9, sr., 15.5; Marshae Hill, Cornerstone Christian, 5-5, sr., 11.6; Chloe Meng, Elyria First Baptist Christian School, 5-2, sr., 11.3; Lovey Walker, Cornerstone Christian, 5-7, sr., 9.4; Honor Hall, Richmond Heights, 5-10, fr., 10.0; Ella Lunsford, Dalton, 5-8, sr., 12.7; Brook McIntyre, Mogadore, 5-3, jr., 19.0; Brooke Schantz, Berlin Center Western Reserve, 5-4, sr., 12.5; Brooke Bauer, Mathews, 5-7, sr., 18.5; Alyvia Hughes, Berlin Center Western Reserve, 5-9, jr., 9.5; Madison Lesnak, New Middletown Springfield, 5-10, sr., 6.9; Savannah Procick, Lowellville, 5-5, sr., 12.0
Honorable Mention: Rylee Knight, Hannibal River, 5-9, sr., 13.0; Abby Thompson, Woodsfield Monroe Central, 5-10, sr, 10.0; Emma Debo, Malvern, 5-6, jr., 10.2; Ellen Rohde, Steubenville Catholic Central, 5-10, sr. 8.1; Ally Miller, Strasburg-Franklin, 6-0, fr., 8.5; Mallory Stutzman, Berlin Hiland, 5-10, jr.,11.9; Jenna McLaughlin, Zanesville Bishop Rosecrans, 6-2, sr., 9.1; Kara Ramsey, New Matamoras Frontier, 5-6, sr., 12.8; Aewyn McMichael, Antwerp, 5-5, jr., 14.8; Kelaysia Harris, Toledo Maumee Valley, 5-9, so., 14.6; Olivia Bishop, Bascom Hopewell-Loudon, 5-9, so., 12.0; Cassidy Foos, Kansas Lakota, 5-8, jr., 10.0; Camille Hovest, Kalida, 5-9, sr., 11.6; Courtney Sumner, Ada, 5-5, sr., 16.0; Maria Maringer, Lakeside Danbury, 5-5, jr., 11.4; Mariah Bonham, Mt. Blanchard Riverdale, 5-9, so., 15.5; Paige McVetta, Cory-Rawson, 5-6, sr., 15.1; Lilly Barhorst, Minster, 5-11, jr., 10.7; Lindsey Koenig, Maria Stein Marion Local, 5-10, sr., 9.6; Avery McFadden, Paint Valley, 5-6, sr., 10.0; Desiree Simpson, Symmes Valley, 5-9, jr., 10.0; Avery Wagner, Waterford, 6-4, so., 11.6; Emma Clary, Crown City South Gallia, 5-11, so., 13.8; Erica Durst, Reedsville Eastern, 5-9, sr., 14.0; Sydney Reynolds, Reedsville Eastern, 5-9, sr., 17.9; Jaylie Parr, Whiteoak, 5-7, jr., 12.7; Madison Montgomery, Lucasville Valley, 5-10, sr., 13.0; Maggie Swayne, Portsmouth Clay, 5-8, sr., 13.1; Gracie Ashley, Portsmouth Notre Dame, 5-10, jr., 10.0; Ava Albert, Fisher Catholic, 5-6, jr., 12.9; Brianna Hubbard, Granville Christian, 5-6, jr., 9.8; Fini Kaiser, Newark Catholic, 6-0, so., 13.1; Ella Proper, Danville, 5-6, jr., 12.7; Elodie Ware, Wellington, 5-10, so., 13.1; Faith White, Mount Gilead, 5-6, so., 9.2; Kiley Wray, Madison Christian, 5-7, jr., 13.7; Avery Brandewie, Fort Loramie, 5-10, so., 12.0; Maggie Anderson, Covington, 6-0, so., 14.8; McKinley Reichert, Jackson Center 5-11, so., 11.9; Kate Sherman, Russia, 6-1, sr., 9.2; Anne Murphy, Fayetteville-Perry, 5-8, sr., 16.3; Kaylin Davis, Cincinnati Christian, 5-6, fr., 10.4; Jordyn Smoot, Springfield Catholic Central, 5-10, jr., 11.7; Kynnedi Hager, New Madison Tri-Village, 6-3, fr., 8.5; Mackenzea Townsend, Union City Mississinawa Valley, 6-1, jr., 9.1; Hannah Webster, Lewisburg Tri-County North, 6-0, jr. 10.7; Molly Mossing, Cedarville, 6-0, jr., 14.8; Carlie Besecker, Covington, 5-10, jr., 10.2; Jaylah Smith, Cincinnati Lockland, 5-10, so., 8.5; Miya Johnson, Richmond Heights, 5-4, so., 8.0; Kate Burman, Elyria First Baptist Christian School, 5-5, fr., 10.0; Micky Zheng, Ashtabula St. John, 5-7, fr., 8.0; Sam Yowell, Fairport Harbor Fairport Harding, 5-8, sr., 8.4; Ashia Robinson, Richmond Heights, 5-7, sr., 11.0; Ava Darney, Warren John F. Kennedy, 5-10, jr., 17.0; Jameka Brungard, New Middletown Springfield, 5-11, soph., 9.4
2023 Division III Girls Basketball All-Ohio Teams
Player of the Year: Corri Vermilya, Loudonville
Coach of the Year: Denny Shrock, Doylestown Chippewa
First Team: Reagan Vinskovich, Belmont Union Local, , 6-2, sr., 22.4 (points per game); Torre Kildow, Belmont Union Local, 6-1, sr., 16.6; Karley Moore, Tipp City Bethel, 5-11, sr., 15.7; Rylee Leonard, Winchester Eastern Brown, 5-6, sr., 28.9; Gabrielle Stober, Rockford Parkway, 6-0, sr., 18.7; Meghan Mayotte, Worthington Christian, 5-9, sr., 19.0; Natiah Nelson, Columbus Africentric, 5-10, jr., 15.0; Abbie Riddle, Baltimore Liberty Union, 5-10, sr., 18.8; Saniyah Hall, Shaker Heights Laurel, 6-0, fr., 20.8; Mari Bickley, Shaker Heights Laurel, 5-10, sr., 15.6; Corri Vermilya, Loudonville, 5-9, jr., 29.5
Second Team: Kenli Norman, Byesville Meadowbrook, 5-6, jr., 14.0; Sierra Brinson, New Lebanon Dixie, 5-10, jr., 23.4; Gracie Barnes, Cincinnati Country Day, 5-9, sr., 16.3; Libby Evanshine, Sabina East Clinton, 5-10, sr., 17.3; Peyton Magee, Leesburg Fairfield, 5-8, sr., 19.0; Payton Johnson, Peebles, 5-7, jr., 24.0; Riley Rismiller, Coldwater, 6-5, sr., 16.2; Lyv Lindeman, Delphos Jefferson, 5-7, jr., 20.3; Katie Kaufman, Ottawa-Glandorf, 6-0, jr., 10.0; Jeniya Bowers, Columbus Africentric, 5-8, fr., 15.0; Janyah Bohanon, Warrensville Heights, 6-2, sr., 20.5; Addison Rhodes, Columbiana Crestview, 5-11, fr., 19.7
Third Team: Lindsey Best, Martins Ferry, 5-7, so., 16.6; Stephanie Alstaetter, Lewistown Indian Lake, 5-10, sr., 15.1; Abigail Adkins, Johnstown-Monroe, 5-10, jr., 17.2; Olivia Skillings, Mechanicsburg, 5-8, jr., 16.2; Delaney Peters, LaGrange Keystone, 5-7, sr., 14.0; Tess Conroy, Cuyahoga Heights, 5-7, sr., 19.4; Elizabeth Dunmire, Cleveland Villa Angela-St. Joseph, 5-10, fr., 21.0; Naomi Keib, Smithville, 5-11, jr., 14.7; Demi Watson, Youngstown Liberty, 5-9, sr., 19.1; Sophia Hook, Brookfield, 5-7, sr., 20.3; Annabel Rodriguez, Doylestown Chippewa, 5-9, sr., 12.8
Special Mention: Hazley Matthews, Ironton Rock Hill, 5-8, sr., 17.6; Airah Lavy, Nelsonville-York, 5-10, jr., 20.1; Emma Garrison, Adena, 5-9, jr., 16.7; Keetyn Hupp, Seaman North Adams, 6-0, sr., 13.2; Sienna Allen, Portsmouth, 5-11, fr., 19.2; Maelynn Howell, Portsmouth West, 5-11, sr., 14.1; Makenna Walker, Wheelersburg, 5-6, sr., 10.8; Kaleigh Norris, Zoarville Tuscarawas Valley, 5-9, so.,10.0; Bailey Eddelman, Uhrichsville Claymont, 5-6, sr.,16.0; Emmie Duskey, Beverly Fort Frye, 5-4, so., 12.4; Kelley Masloski, West Lafayette Ridgewood, sr. 5-9, 14.0; Pam Kandrach, Rayland Buckeye Local, 5-9, jr., 17.0; Kylie Wells, Middletown Madison, 6-1, jr., 11.8; Liv Thompson, Camden Preble Shawnee, 5-7, sr., 16.7; Campbell Jewell, Camden Preble Shawnee, 5-6, sr., 13.2; Jenna Brumbaugh, West Milton Milton-Union, 5-6, so., 13.9; Megan Zimmerman, Cincinnati Country Day, 5-8, jr., 16.1; Carrie Zeedyk, Sherwood Fairview, 5-3, sr., 15.6; Emerson Gray, Liberty Center, 5-7, jr., 11.8; Mia Hurst, Huron, 5-9, sr., 13.0; Eden Palomo, Castalia Margaretta, 5-5, jr., 11.7; Leila Carter, Columbus International, 5-7, fr., 25.5; Addie DeLong, Mechanicsburg, 5-6, jr., 17.5; Maliyah Lofton, Canal Winchester Harvest Prep, 5-6, fr., 14.0; Macy Miller, Milford Center Fairbanks, 5-11, sr., 9.8; Shariah Gailes, Brooklyn, 5-11, sr., 17.7; Laura McCoy, Garrettsville Garfield, 5-8, sr., 15.3; Riley Kubitz, Sullivan Black River, 5-7, jr., 22.4; Aaliyah Foster, Youngstown Liberty, 5-5, sr., 18.9; Addesa Miller, Apple Creek Waynedale, 5-7, jr. 12.8; Caitlin Titler, Wooster Triway, 5-8, jr. 14.7; Abby Henegar, Doylestown Chippewa, 5-8, sr., 10.6; Alyssa Geiser, Apple Creek Waynedale, 5-7, jr. 11.0; Luvrain Gaskins, Columbiana Crestview, 6-0, so., 11.6; Maggie Pavlansky, Cortland Lakeview, 5-8, sr., 13.8; Mary Brant, Poland, 5-9, jr., 12.4
Honorable Mention: Madi Singer, Smithville, 5-8, soph., 10.2; Nadia Lough, Rootstown, so., 14.1; Rose Couts, Atwater
Waterloo, sr., 14.6; Karly Launder, Byesville Meadowbrook., 5-9, jr., 10.2 ppg; Josie Creighton, Old Washington Buckeye Trail, 5-11, sr., 11.3; Zara Harveth, Bellaire, 5-6, so. 14.4; Peyton Roberts, Beaver Local, 5-10, jr., 17.4; Savannah Bartlett, Coshocton, 5-9, sr., 14.0; Lexi Tucci, Magnolia Sandy Valley, 5-10, jr., 11.8; Leah Bourquin, Zoarville Tuscarawas Valley, 5-7, so., 9.2; Caitlyn Drake, Zanesville West Muskingum, 5-10 sr., 8.1; Sasha Busey, Van Buren, 5-10, sr. 16.3; Kaidance Iles, Upper Sandusky, 6-0, sr., 11.2; Allison Hughes, Rockford Parkway, 6-2, sr., 11.0; Allison Rhodes, Sherwood Fairview, 5-10, sr., 15.0; Syana Sivongsak, Willard, 5-1, sr., 10.9; Savana Brooks, Harrod Allen East, 5-8, jr., 15.0; Cara Frank, Bloomdale Elmwood, 5-9, sr., 13.5; Kayla Buehler, Pemberville Eastwood, 5-7, jr., 13.9; Grace Walton, Upper Sandusky, 5-3, so., 10.3; Lilly Wortman, Bellville Clear Fork, 5-5, sr., 8.3; Karsyn Erford, Ottawa-Glandorf, 5-7, fr., 9.3; Gracie Shepherd, Haviland Wayne Trace, 6-0, sr., 10.4; Sami Scoles, Bluffton, 5-9, sr., 14.9; Lauren French, Delphos Jefferson, 6-3, sr., 8-5; Jaelle Keller, Castalia Margaretta, 5-5, sr., 8.4; Grace Stucky, Bucyrus Wynford, 5-7, sr., 11.0; Hadyn Bailey, Ironton Rock Hill, 5-5, sr., 12.1; Sophi Hutchinson, Chesapeake, 5-6, fr., 18.7; Kate Ball, Chesapeake, 5-5, so., 10.6; Rylee Lisle, Meigs, 6-1, sr., 17.0; Gabby Pernell, Chillicothe Southeastern, 5-5, jr., 13.5; Emma Hinshaw, Chillicothe Huntington, 5-8, jr., 10.0; Natalie Cooper, Piketon, 5-10, sr., 11.8; Addison West, Lynchburg-Clay, 5-11, jr., 13.6; Jade Massey, Lynchburg-Clay, 5-9, jr., 12.5; Faith Donley, Leesburg Fairfield, 5-6, jr., 12.4; Kenlie Jones, Seaman North Adams, 5-2, jr., 11.8; Skylar Zimmerman, South Webster, 5-6, jr., 15.7; Daysha Reid, Portsmouth, 5-6, so., 14.9; Emma Sayre, Portsmouth West, 5-2, jr., 8.7; Madison Whittaker, Wheelersburg, 5-5, sr., 12.9; Emily Buckley, Amanda-Clearcreek, 5-9, sr., 13.0; Chai Dobbs-Euans, Grandview Heights, 6-0, sr., 13.2; Hope Orders, Columbus Ready, 5-7, sr., 15.1; Avah Steele, Marion Pleasant, 5-9, so., 14.5; Christyn Anthony, Harvest Prep, 5-9, sr., 13.0; Cally Carpenter, Fredericktown, 5-7, so., 15.1; Jamie Custer, Worthington Christian, 5-6, jr., 10.0; Abbie Dickson, Utica, 5-5, so., 15.2; Carly Lehman, Fairbanks, 5-8, sr., 12.0; Tatum Lusher, Grandview, 5-9, fr., 16.0; Brooke Mannon, West Jefferson, 5-11, sr., 14.8; Alexis Neal, Georgetown, 5-8, sr. F, 12.2; Abby Yukon, St. Paris Graham, 5-7, sr. G, 14.9; Ranlei Freeman, Finneytown, 5-7, sr., 15.8; Chaley Wade, West Liberty-Salem, 5-10, jr., 10.5; Emma Yeager, Clermont Northeastern, 5-9, fr., 10.1; Jenna Dirksen, Versailles, 5-9, jr., 9.2; McKayah Musselman, Casstown Miami East, 6-1, jr., 9.3; Sammy Welty, Cincinnati Madeira, 6-0, sr., 13.8; Ella Campbell, Middletown Madison, 6-1, sr., 9.5; Harlee Howard, Camden Preble Shawnee 5-10, sr., 11.7; Jordan Collom, Sabina East Clinton, 5-2, jr., 7.1; Breanna Cobb, Anna, 5-6, jr., 12.1; Ava Gabriel, Wickliffe, 5-7, so., 22.7; Brooke Lehmkuhl, Wellington, 6-0, so., 14.1; Elise Champagne, Columbia, 5-7, jr., 12.0; Paris Gilmore, Warrensville Heights, 5-7, sr., 17.2; Mia Sassano, Mentor Lake Catholic, 5-5, sr., 14.1; Margaret Jones, Shaker Heights Laurel, 5-10, sr., 6.3; Brooklyn Barber, LaGrange Keystone, 5-10, so., 11.0