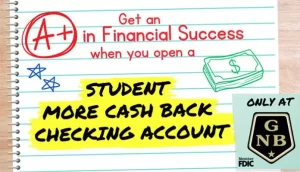 ARCANUM – The National Trail Blazers defeated the home standing Trojans 33-19 on Homecoming night in Arcanum but not before the Trojans battled back to make in a 19-19 fourth quarter score.
Two former Earlham College football coaches, Trail's Mark Hoffman and Arcanum's Matt Macy faced off in WOAC Friday night football action at Arcanum, home of the Trojans.
"Matt Macy and I are the best of friends, he's a great guy, his mom, his dad, all his family," said Coach Hoffman. "We coached together over at Earlham. He was the offensive line coach and I was defensive line coach. We had Snicker Bar bets every day and we made our kids better because we went one-on-one. Macy is one heck of a coach. This community is lucky to have him."
The Blazes got on the board first at 8:09 in the opening period on a 15-yard Jamison Watts quarterback keeper and Jacob Farno's PAT kick splitting the uprights giving Trail an early 7-0 lead.
The Trojans answered with a Truman Knaus 3-yard Arcanum TD run with 0:25 remaining on the first quarter board. Trail blocked the PAT attempt for a 7-6 visitors lead.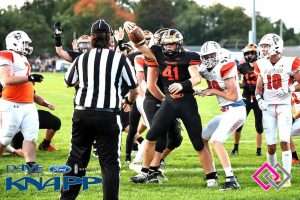 Quarter NO. 2 was a defensive struggle between the teams with National Trail's Chase Ruebush racing 53-yards for the quarter's lone score with the PAT missing the mark sending the teams to the break with Trail leading 13-6.
Arcanum scored first at 5:59 in second half play on a Bishop Cartwright to Knaus 36-yard touchdown pass. The 2-point conversion pass attempt failed leaving Arcanum a point short trailing 13-12.
Trail came right back with 4:11 showing on the third quarter clock with Jody Wintrow 22-yard touchdown run giving Trail and 19-12 advantage. With the 2-point pass conversion attempt off the mark the score would stand at 19-12 with the teams heading to the final quarter of action.
The Trojans took advantage of a Dakotoa Kendig 3-yard run and a Knaus PAT kick through the uprights to knot the score at 19-19 at 7:13 in the fourth.
"I'm telling them you better get it going or we are going to lose this ballgame," Coach Hoffman told his Blazers following Arcanum's tying score. "They came out in quads and they started throwing that ball. They were running, they were getting the corner on us and we had to shut that down. If we wouldn't have shut that down this is a different ballgame."
Trail wasted no time getting the lead back with Jamison Watts returning the Trojans kickoff 82-yards at 6:58 for a score giving the visitors a 26-19 lead with Farno's PAT kick good.
"Jamison Watts, our quarterback is like having another coach on the field and then you have that little Ruebush kid, he's ready to break a scoring record at National Trail that's been held since 1976," Coach Hoffman stated. "He's getting ready – he does a real good job. Our kids work hard. James Baker, all those guys, they get in that weight room, they do what I tell them, they're dedicated, they're good kids, these are good kids."
"We got tied up 19-19 then I made a dummy call and kicked it deep," said Coach Macy. "They returned it for a touchdown – went against my best instincts. I've been doing this a long time and I should have known better."
National Trail tacked on an insurance score with 2:37 remaining in the game with a Watts 16-yard run and a Farno PAT kick for a final score of 33-19 with Trail picking up the WOAC win.
"We played hard, our young guys played hard," Coach Macy said, "We lost one of our seniors today with an injury – we had a couple guys step up. We had to throw a left tackle in there in the first quarter. Cody Werling's been repping center and right tackle all week and we threw him in at left tackle into the wolves. He's a sophomore and he made a heck of a job. He did a nice job stepping in, I'm proud of him."
Veteran National Tail Coach Mark Hoffman took time to talk about his team, Arcanum's players as well as other area teams across rural America.
"We have great kids," he said. "I've been all over the country. I've coached in 11 different schools, I've been in schools where there's 200 kids on a football team when I was in Florida. I came back, I coached at Earlham College for eight years and I'll tell you right now, you want work ethic, you come to these kinds of schools because when you get there, there's kids that want to play.
"There's kids that will do what you tell them," Coach Hoffman continued. "There's kids that are not hanging on the street corner with their pants down around their butt – these are kids that are good kids, their parents are solid, their communities – look at this community, look how nice this is up here, this is a great community."