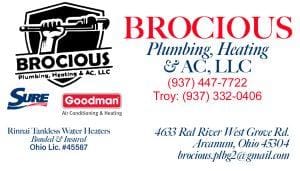 TROY–Lost in the depths of a devastating depression, Kevin Hines did the unthinkable and jumped from the Golden Gate Bridge in San Francisco.
Hines will share the story of his survival and recovery and the stories of others who have found strength from his story, at "The Art of Wellness with Kevin Hines," Sept. 18 at the Arbogast Performing Arts Center in Troy.
Hines has published a new book, "The Art of Being Broken: How Storytelling Saves Lives." In the book, Hines explores how "recovery is not a straight path but a constant journey, and often the best way to help ourselves stay grounded is by helping others in need."
Hines has shared stories of recovery and resilience through his books, his documentary "Suicide: The Ripple Effect," more than 6,000 speaking events around the world, and numerous television appearances.
The program is presented by the Tri-County Board of Recovery and Mental Health Services with support from Copeland; NAMI Darke, Miami, and Shelby counties; the Grieshop Mental Health Fund; and Erwin Chrysler Dodge Jeep Ram and the Anthony Trissell Memorial Foundation. Hines will speak at 10 a.m. for local high schools, and to the general public at 7 p.m. The event is free, but tickets are required. For tickets, go to www.ArbogastPAC.com/events.
The Kevin Hines presentation headlines a series of events in September marking National Recovery Month, beginning Aug. 31 with an Overdose Awareness Day event from 6-8 p.m. at the Piqua Administration Building Plaza on West Water Street. The public is invited to attend. There will be tables from local recovery support resources, a memory wall where persons can post a photo of a loved one lost to overdose and family-oriented activities.
On Sept. 7, from 10:30 a.m. to 1:30 p.m. at the Miami County Courthouse Plaza, is the Mental Health and Community Resource Fair, hosted by Miami County Common Pleas Mental Health Court and featuring about 50 local resource agencies. The free event is open to the public and will offer free haircuts, chair massages, manicures, and wellness programs.
Also in September, the Tri-County Board and Edison State Community College co-host Art of Recovery: New Beginnings and open gallery display of art from persons in recovery, family members, or others interested in mental illness or substance use. The deadline for submitting art entry forms is Sept. 5. There is no cost to enter. More information and entry forms may be found at www.tcbmds.org/art.