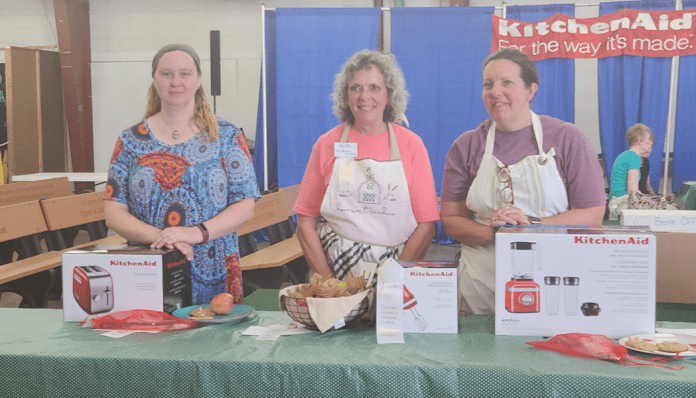 The Jr fair hosted the Advisor division of their Bake A Rama on Wednesday morning.
Five Contestants had 20 minutes to prepare and 30 minutes to bake. The Advisor division had to make a recipe with apples in it.
Judges Sunny Hicky and Mary Smith scored them based on six different categories. These categories were measuring food, preparation of food, clean up, posture and poise, reaction to questions, and quality of the finished product.
In the measuring food category, they were judged on the correct use of measuring utensils, measuring accordingly, and uses of proper techniques.
The preparation of the food category included correct mixing procedures and the correct consistency of the batter.
The clean-up category included space cleanliness, being neat, orderly, and getting cleaned up quickly.
The posture and poise category was based on the contestants' neat appearance and self-confidence.
The reaction to the questions category was based on their ability to stay calm and comfortable while the judges asked them questions.
Finally, the quality of their finished apple recipe was based on consistency, flavor, appearance, and presentation.
"You will be passing on to your 4-H kids quite good techniques," said Hicky. "Truly, I commend you for coming and showing us your skills, and I commend you for helping your 4-H kids learn."
In third place, receiving a Kitchenaid Hand Mixer was Anita Hart.
In second place, receiving a Kitchenaid Toaster was Heather Threewits.
Winning first place and receiving a Kitchenaid Personal Blender was Starla Ross.
Congratulations contestants!