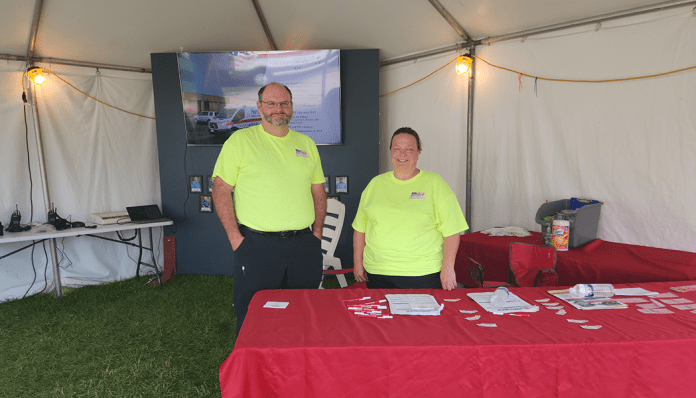 Spirit EMS has been prepared for the fair since day one. With two tents on either side of the fair, one by the grandstand and one between the rides and the dog tent, they are ready to help wherever you are.
For the fifth year running, Reid Health sponsored the EMS medical tent at the fair that Spirit EMS crews occupy when they aren't out on a run.
Lots of new things can be found under their tents this year.
"We have two backdrops instead of one big one," Spirit EMS EMT and Director of Employee Communications Carie Pope said. "Then we decided to do the slide show highlighting our services and who we are as a company. We've never had a TV out here before. In addition, we had everyone's picture on our management team redone, put them in picture frames, and put them on the display board. It's a lot nicer than we've ever had before."
Each of the tents and vehicles nearby are also fully stocked with medical equipment in case of illness or injury and are ready to handle any level of emergency. They also have an ambulance or two on hand for many of the grandstand events. At any given time, Spirit can have up to four or five ambulance crews at the fair working.
"We keep all kinds of items on hand to handle everyday minor emergencies, such as bee stings, insect bites, minor scrapes," Pope said. "The biggest thing people want is band-aids, and we just give them a whole pack to take with them when they stop by."
To negotiate around the large, crowded areas, oftentimes, the EMS crews will initially respond to calls on golf carts, a John Deere Gator, and a Polaris Ranger that are equipped with an ambulance cot and all the needed supplies to care for a patient.
"We've got two fully stocked ambulances, plus two fully stocked active response vehicles," Spirit EMS Paramedic and EMS Educator Scott Wolf said.
With the fairgrounds being so close to the hospital, some patients are transported to Wayne HealthCare, while others are cared for at the fairgrounds by the onsite EMS crews.
"We try to keep everyone here, but in certain situations, we do have to transport," Pope said. "Spirit specializes in special event medicine, and therefore, our protocols allow us to treat more patients on-site versus having to transport everyone to the hospital."
As they are always looking for people interested in getting into the medical field, they also have applications at both tents on the fairgrounds. They are hiring for various positions but are currently focusing on accepting applications for their next paid EMT classes, which start September 18th.
A big concern for Spirit this year at the fair is heat exhaustion. With high temps and high humidity, there is a higher risk for people to fall ill due to heat exhaustion. Spirit reminds everyone to drink plenty of water, and if you have a problem or emergency, call 9-1-1 or go to a nearby tent that is well-marked with their logos on it, and they will be ready to help.
Stay safe, and have a great time at the Darke County Fair! Spirit is there if you need them!