Darke County will showcase Solid Rock & Boom & the Darke County Monster Mash on Saturday, September 30, 2023, from 10 am to dusk at the Great Darke County Fairgrounds in Greenville, Ohio.
The food truck rally and craft show will be a celebration of local small businesses. Small businesses are the backbone of our economy in the United States, Ohio, and Darke County. Come out and help support them during this food truck and craft show celebration. These local small businesses need your support NOW more than ever!
The food trucks confirmed so far are:
Badge's BBQ, Bowman's Texas Tenderloins, Buckeye Burgers,
Chuck's Foods & Concessions, Crème de la Crème Cakery,
Homestead Spud, Kettle Colonel, Kona Ice, Martin's Lemonade,
Mikesell's Concessions, Nacho Pig, The Gypsy Kitchen, The Spicy Sicilian, Werling Street Eats and Zaki Mediterranean Grill.
We also have a large selection of over 50 local craft vendors open from 10 am-5 pm and located inside the coliseum.
There is a full day of live Christian music in the gazebo with Indiana Bible College, the Solid Rock Praise team, and musical saxophone selections from Kathy Hernandez.
This family-friendly event will have fun activities for the entire family to enjoy. Jungle Island Zoo is an extremely entertaining and excitingly educational exotic animal encounter!! The petting zoo features a wide variety of rare and unusual animals from around the world. Visitors can observe, pet, and feed our critters at their leisure, and unlike scheduled shows, everyone gets a front-row seat! Young and old alike are delighted with real hands-on exposure to animals most have only seen on television or in distant zoo enclosures.
Ro-Da-O-Farm from Arcanum will have their majestic Percheron horse-drawn wagon rides for the entire family to enjoy from 12-7 pm.
New this year for the kids will be the bird encounter with Jungle Island Zoo from 12 pm-7 pm. You will be flying high in the fun and excitement of hand-feeding hundreds of brightly colored parakeets as they flutter about. Hear the children's squeals and laughter of adults amid the chirping songs and swishing of countless wings. Hold tightly to your feed "stix" as dozens of these feathered jewels scramble for the best perch. Truly a close encounter of the "bird" kind!!
Stop by the registration table located across from the gazebo area to enter your name in a drawing for a chance to win over $1,000 in prizes donated from local restaurants and businesses. You will receive an entry ticket for the drawing when you park your car at the fairgrounds. Winners will be announced at the top of each hour for the chance to collect a special prize, and that can be picked up at the registration table located across from the gazebo.
Solid Rock Apostolic Church would like to thank the Darke County community for supporting outreach projects, including (Thanksgiving Turkey giveaway & Christmas at the Rock) To show our appreciation to the Darke County community, Parking will be FREE at the Solid Rock & Boom event.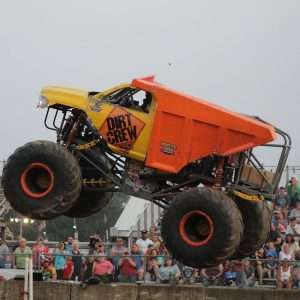 Full Throttle Monster Trucks featuring the King of the Monster Trucks, the legendary Big Foot, along with Dirt Crew, Blockhead, Maximus, Stomper & American Scout. All six monster trucks compete in three main events, including side-by-side racing, freestyle racing, and a wheelie competition.
Grandstand gates open at 4 pm. The Pit Pass party starts at 4 pm and is included in the ticket price. The Pit Pass party allows anyone with a Monster Mash ticket to meet the drivers of the monster trucks and take up close pictures with the monster trucks. Monster truck rides will take place before, after, and during intermission for an additional cost per rider.
Fireworks immediately following the monster truck show sponsored by Solid Rock Apostolic church.
Get your discounted PRE-sale tickets early for the Monster Truck show online at:
www.darkecountyfair.com or go to www.etix.com.
You can also visit the Darke County Fairgrounds office or call them at
937-548-5044. Box tickets are $23, red grandstand tickets are $20, track tickets are $20, and grandstand tickets are only $18. Enter code: ACTS2:38 for a $2 discount per ticket. Ticket prices go up on the day of the event.
 "Solid Rock & Boom is an event that is designed for our community, family, and friends. And it's a great event for anyone looking to have a great time", according to Matthew O'Shell, Pastor from Solid Rock Apostolic Church. "Celebrating and supporting local, small businesses here in Darke County will help grow our local economy and keep these entrepreneurs busy for years to come. We hope you can join us for a great day with your family by enjoying the large selection of amazing food, great vendors, and family-friendly activities planned throughout the day at the Darke County Fairgrounds on Saturday, September 30"
For more details about the event and to participate in contests, you can go to the following: www.facebook.com/cremedelacreme.cakery and then click on the Events tab for the "Solid Rock & Boom 2023" and "Darke County Monster Mash 2023".
You can also contact Jason Blackburn for more information by email at: thepromoterllc@gmail.com.