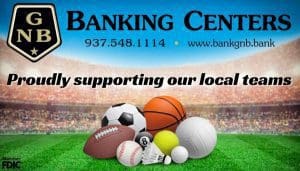 ARCANUM – The Arcanum Lady Trojans defeated the visiting Franklin Monroe Lady Jets 54-38 in Thursday night WOAC action.
Arcanum took the opening quarter 12-5 with Alexis Gibbons pacing the Lady Trojans with 7-points including a 3-pointer.
The Lady Jets battled back to take the second period 14-6 with Adalynn Hines, Olivia Sease and Jaliyah Nichols each scoring 4-points, and Madison Henninger adding a bucket sending the teams to the break with Franklin Monroe holding a slim 1-point 19-18 advantage.
"That second quarter they threw some adversity at us and we know we are going to be in those situations," Arcanum coach, Abby Moore said. "Going into the locker room I still felt confident, felt good because I knew we got looks, they just weren't going in that first half. We changed our mindset a little bit to attack and then once we got some easy buckets then the outside shot would hopefully fall."
"We did real well in the first half and then I think we forgot how to do it at halftime," FM coach, Zane Shellabarger stated. "It was not an effort thing, the girls played hard and I knew they would."
Period No. 3 had Arcanum outscoring the visitors by a double digit 18-7 score to take a 36-26 lead to the final quarter of play. Ashlyn Miller led Arcanum with 7-points including her third trey of the night, freshman Caroline Long added 6-points, Brooke Anderson added a 3-pointer, and Alexis Gibbons a basket.
The fourth quarter went to the Lady Trojan 18-12 with Anderson good for 6-points, Miller 5 including her fourth 3-pointer of the game, Rylee Leeper knocked down a triple, and Kylee Freeman and Gibbons each added a basket.
"What costs us the game tonight was offensive rebounds," Shellabarger noted. "We gave up way too many offensive boards. We're not big and we know that – we have to be disciplined and box out."
For the game, Arcanum canned eight 3-pointers including four from Ashlyn Miller bringing a response from Coach Moore – "We got some timely threes in the second half…helped get us that separation."
"We had some shots that weren't falling the second half," Coach Shellabarger said. "I guess basketball goes that way. They hit a couple big threes and I felt like we get a little bit of momentum and then credit to them they would have a girl knock one down and take the wind out of our sails. We was kind of swimming uphill at that point, but credit to Abby – she got one."
"We still haven't reached our potential all four quarters," Coach Moore said following the game. "I don't want it to come yet. I want it to come at the right time and I want it to come in the tournament where it's do or die."
Miller led Arcanum and all scorers with a game high 18-points.
BOXSCORE:
ARCANUM 54, FRANKLIN MONROE 38
ARCANUM – A. Miller 18, A. Gibbons 11, B Anderson 11, C. Long 6, R. Leeper 3, K. Toy 3, K. Freeman 2 – TOTALS 10 10-16 8
FRANKLIN MONROE – J. Nichols 12, Sease 9, Hines 8, L. Shellabarger 7, Henninger 2 – TOTALS
3-POINTERS
Arcanum 8 (A. Miller 4, A. Gibbons 1, B. Anderson 1, R. Leeper 1, K. Toy 1)
Franklin Monroe 0
SCORE by QUARTERS
12-06-18-18 54 Arcanum
05-14-07-12 38 Franklin Monroe