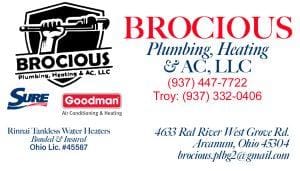 BRADFORD–Gloria Shafer is very involved in her community and doesn't seem to mind staying busy. She's good at it.
She is a true dedicated resident of Bradford, a village that straddles the counties of Darke and Miami.
Shafer is a director of the Bradford Ohio Railroad Museum, which will be the focal point of a heritage festival on Saturday (Sept. 9); a long-time member of the Bradford Pumpkin Show Committee, which is readying for its annual show Oct. 10-14; and she serves on the Bradford Alumni Association Committee.
During the heritage festival, she will mainly be located at the railroad tower at the east edge of town.
The fun begins at 10 a.m. with lots of activities throughout the day. Among the activities scheduled are a Little Miss and Mister judging, a hobo and railroader costume contest; and a program on the development of Laocotrol by Don Selbly. Also featured will be a railroad quiz, railroad songs, the railroad marking, and trivia quiz hobo signs, not to mention raffles.
Scheduled throughout the day will be face painting, games in IddingPark, a scavenger hunt, Operation Life Saver, speeder under restoration, train vendors, and the North American Railcar Operators Association (NAROA).
The various activities will be held in and around the museum at 200 N. Miami Ave., and at the tower.
The Bradford Ohio Railroad Museum celebrates the heritage and impact that the Railroad had upon our community and the individuals who worked within the railroad industry.
Museum Features
The Bradford Ohio Railroad Museum offers three levels of professionally procured exhibits, displays, and information, including the Railway YMCA, Role of the Railroad in War, Dining Car Exhibit, The Telegraph (interactive display), The BF Tower (with operational signals), Children's Play Area, and Museum Gift Shop.
Located on the basement level, the children's area features interactive play exhibits, a Thomas the Train set, and much more, and the  Museum Gift Shop is filled with BORM collectibles, gifts, and railroad memorabilia.
Founded in 2002 by several local railroad enthusiasts, the Bradford Ohio Railroad Museum takes visitors on a journey through the village's local railroad history as depicted through photos, interactive displays, and railroad memorabilia.
Our newest addition…the BF Tower, is an interactive demonstration of the role that a Switching Station plays in moving trains through a junction.
As for the Pumpkin Show, Shafer has been involved since the 1970s but doesn't do as much as she once did. She had been in charge of confetti sales for a long time, had, for a period of time, taken care of the entertainment for Saturday night, and, for several years, was in charge of the school parade.
The Pumpkin Show is preceded by a property decorating contest on Oct. 8, while during the five-day event, there are many family-friendly features planned, such as rides, entertainment, games, contests, vendors, parades, a car show, a sweepstakes night, and, of course, confetti.
With the Bradford Alumni Association, she is currently president. Others on that committee are Dennis Baker, Sally Brewer, April Brubaker, Rita Crosy, Bob Daugherty, Rhonda Dunlevy, Toni Fashner, Scott Floyd, Annie Gregg, Amy Gade, Joanna Pittenger, Jill Rank, Helen Rhoades, Cheryl Sanders, Di Shafer, Doris Anne Shuey, Jim Smith, Dennis Stryker, Teresa Stryker, Sue Vickroy, Cindy Westfall, and Beener Wood.
The group has been hosting a golf outing since 2009, with proceeds going to pay for scholarships. The next one will be Aug. 5, 2024. And, the next alumni banquet is slated for May 18, 2024.
A Bradford High School graduate, Gloria got involved in the migrant program, thanks to then-Superintendent Weiss.
"I checked on enrollment of the Darke County programs at Mississinawa Valley, Union City, Oakland Church of the Brethren, and Bradford," she said. "It was interesting. I couldn't speak Spanish."
She did that when computers came into being five years later.
"I wore suits on the job, and they respected me," she said. "That fall in August, they put me in the school library. I got a grant to go to Wright State University, where I took junior and senior classes. John Black was our librarian, and he initiated me getting set up."
Thus, she was doing this job for five years in the mid-1970s;  migrants in the summer and the library during school.
Following that, she went to work for Hobart Corp., Troy, where she worked with the decimal systems and took care of various programs.
"There were 104 branches in the main frame, and it ran 24/7," she recalled. "I kept things like you do in a library. I enjoyed the work, and they were all professional people. Then we went from manually to be put in the system. Then I was a secretary for over the computer stuff and tracked all the hardware and software that was purchased. I had to travel to Troy. Hobart's paid for me to go to Sinclair and graduate with a business degree. I got my certification. All of it was enjoyable…the work, the people."
The last job she did was office work, taking care of all the bills.
"I had to keep track of people with licenses," she noted. "Everything was changing to newer things. I knew a person's information and financial information."
Then her husband Dean got sick. He was diagnosed with cancer in 2002, and she retired on June 30 of that year. He succumbed to that battle on Feb. 17, 2003.
She still lives in the home he built.
"He coordinated the move here," Gloria said.
How did they meet?
"When we were younger, we were neighbors," said Gloria, the oldest child of the late John and Maxine  Sanders.
She and Dean became parents of two children now living in North Carolina; son Ron in Charlotte, and Mindy Storrie, in Chapel Hill. There are two granddaughters, Alex, 26, and Mallory, 21, and one great-grandson, Fin Hodges, who will turn 3 in December.
Gloria's activities don't stop with the museum, the town festival, or the alumni association; she is also a member of the Grow Garden Club, AmVets, the Eagles Lodge, and attends Common Ground Church, formerly called the Brethren Church, and its Bible studies. And, she finds time to play golf and tennis on Mondays. She plays tennis at Schroeders in Tipp City for two hours from 9 to 11 a.m. and then does nine holes of golf at 5:30 p.m. at Stillwater Golf Course.