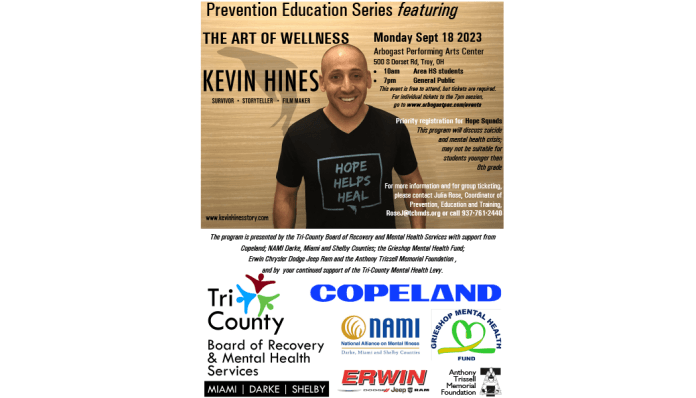 Prevention Education Series featuring Kevin Hines "The Art of Wellness."
Monday, September 18, 2023, at the Arbogast Performing Arts Center, 500 S Dorset Rd, Troy, OH
This event is free to attend, but tickets are required. For individual tickets to the 7 pm session, go to www.arbogastpac.com/events
Individuals may reserve up to 10 tickets; please contact Julia Rose at RoseJ@tcbmds.org or 937-761-2440 for group ticketing.
Priority registration for Hope Squads. This program will discuss suicide and mental health crisis and may not be suitable for students younger than 8th grade.
The program is presented by the Tri-County Board of Recovery and Mental Health Services with support from Copeland; NAMI Darke, Miami, and Shelby Counties; the Grieshop Mental Health Fund; Erwin Chrysler Dodge Jeep Ram and the Anthony Trissell Memorial Foundation, and by your continued support of the Tri-County Mental Health Levy.