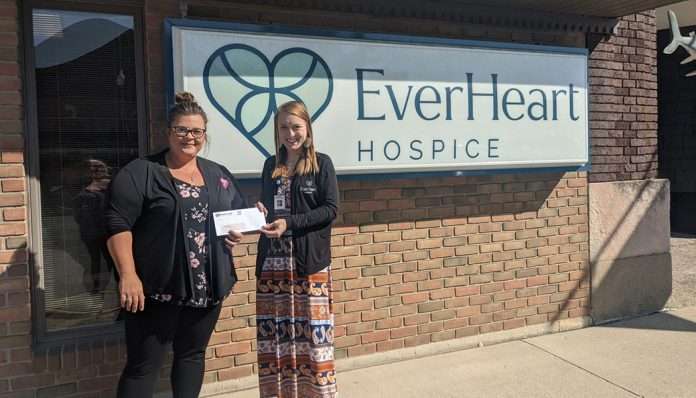 Last month, Preferred Insurance Center held its first annual Mini Golf Outing, raising $2,244 for area hospice patients receiving care provided by EverHeart Hospice.
Local community members enjoyed a beautiful day outside while playing a unique take on mini golf at Pla-Mor Lanes in Coldwater. This new fundraising event was held to raise funds for patient care at EverHeart Hospice. The local non-profit hospice agency serves patients and families throughout Mercer County and eight other counties in west-central Ohio.
Scattered among the standard holes were challenges that included using a flamingo instead of a golf club and a "no hands" hole where you had to putt using your feet. In addition to a round of golf, participants could enter a 50/50 drawing or a gift card raffle featuring many gift cards donated by local shops and boutiques and ended the day with a delicious lunch.
Andrea AbouJaoude, Senior Commercial Account Manager with Preferred, was one of the team members involved with planning the event. "Preferred Insurance was so happy to partner with Pla-Mor Lanes in Coldwater to raise awareness about the amazing services that Everheart Hospice provides! We have all benefited from them and wanted to give back in any way we could. Not only was it a great fun day of putt-putt, but we were also able to raise over $2,200 and are definitely ready for next year," stated AbouJaoude.
In addition to this new event, Preferred gives back monthly through their Quotes4Causes program. Through this program, they select a different non-profit each month that will receive $10 from each quote Preferred Insurance gives throughout that month. EverHeart Hospice was the August recipient to coincide with the mini golf outing.
Erica Wood, Business Development Specialist at EverHeart, was one of several EverHeart team members who helped during the outing and recently met with Andrea for their check presentation. Wood shared, "Preferred Insurance is so generous when giving back to their community. We were so excited when they chose us as the recipient of their new Mini-Golf fundraiser. Every donation we receive allows us to continue providing much-needed hospice care for every patient on their end-of-life journey. This contribution can be used for so many things, including patient supplies, our Legacy Program, and bereavement support, to name a few. We are so thankful to their entire team that made this possible and the community that showed up to golf!"
For more information on what sets EverHeart Hospice apart from other hospices, including their Board-Certified Music Therapists, We Honor Veterans ceremonies, and Legacy Program, visit www.everhearthospice.org or connect directly with a team member at 800-417-7535.