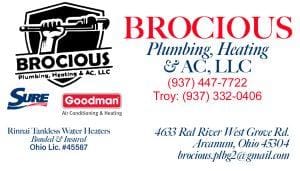 ANSONIA–Ansonia Police Chief Frank Shapiro will be retiring on Nov. 30 after 14 years and two months of service with the department.
He came to Ansonia from the Butler Township Police Department in Montgomery County, where he served from 1982-2009. His work there included being a police officer, detective, EV tech, and sergeant.
Why did he decide to retire from Ansonia?
"Because I'm 80," he responded. "I don't want to be a burden to fellow officers."
He feels that if something should happen to him on a call, he doesn't want his officer(s) to focus on him instead of the perpetrator and the issue at hand.
"I've had fun for 40-odd years," he said. "It's been great.
He gave the village of Ansonia three months' notice and agreed he would come back as a counselor but not a chief if needed.
In the meantime, he is the only one in the department, with the village council also looking for another officer as well.
At his last post in Dayton, Shapiro started out as a paid auxiliary officer.
"I enjoyed working the midnight shift, but I worked all shifts. I didn't mind midnight, though," he said.
He recalled when his wife, Tammy, now deceased, would ask, "Why are you so happy when you work midnights and have no days off?"
"I would say because I'm about to go in and work for eight hours," he stated. "I hated 4 to midnight. They were terribly busy. I called midnight a paper shift because it was where we took all of the reports."
Shapiro, who indicated there were only a couple of times he was in a dangerous situation, said before going into law enforcement, he worked in the family business.
He didn't even know about law enforcement auxiliaries until someone informed him about them.
"I used to do underwater diving when my partner, an Ohio state trooper, talked me into going into being an auxiliary officer," Shapiro said. "I started hanging out at Butler Township and helped them write things for their policy manual, especially in firearms."
He added, "I then went to the academy on my dime. I was in the learning process."
He then became a certified part-time officer in 1980.
"I was the first part-time officer ever to be appointed to work in firearms," he said. "I was associated with firearms all my life. I was chief firearms instructor from the mid-1980s until 2002."
Shapiro, who was adopted as a baby, grew up in Springfield, Ill. The only child of his parents, they moved to Indianapolis, Ind., before making the move to Ohio in 1965. He graduated in 1951 from Ben Davis High School in Indianapolis.
Although he was adopted, he has never tried to or wanted to find out who his birth parents were.
"Mom and Dad were my mom and dad," he said. "They raised me and taught me how to be independent and get off my butt and do it. They were good people."
In 1999, he married his wife, the former Tammy Lyons of this area, and she died in 2017 after a lengthy battle with cancer.
"She was diagnosed in 2007 and was given six to eight months to live," he said. "She was in horrible pain."
When he first came to Ohio, the family found a house outside of West Milton and lived there for 30 years.
"It was a big place with 40-45 acres," he said. "It was getting to be too much for me. I was mowing six acres, and that was a real treat. We decided to downsize and moved to Darke County. My wife's brother, (the late) Kirby Lyons, had a house for sale. We thought we would keep it until we found something else, but I'm still there."
At the time, he was still working in Montgomery County but subsequently decided to retire through PERS.
When he announced his retirement to the Montgomery County officials, they told him, "You can't just do this."
"I was on days at the time and told them that it's already done," he said. "I gave them three months like I did here in Ansonia."
At the time of his retirement in Montgomery County, he was the daytime commander.
It was his wife, who had read in the local newspaper that Ansonia was looking for a police chief.
"She told me to apply," he said. "I liked the idea of a small community, so I turned in my name and got interviewed. Next thing I knew, Mayor Jerry Koverman called me and hired me."
Shapiro worked full-time for both departments for a short while.
"I would get off of work on days and then come here to Ansonia," he remembered. "I worked my days off there and came here, and I had lots of vacation time coming."
Has he ever been in any scary situations?
"I can't say anything serious, but there were times when I was guarded," he said. "Perpetrators have to comply with the officer, and they'll be okay. When I hear the news that  some big-city officers do wrong, I find it disturbing."
What is he going to do now? His first response was, "Ride my motorcycle," then he replied, "The first couple of months, I want to enjoy not getting up in the middle of the night, and I hate winter weather."
About the motorcycle response, he added, "As long as I can remember, I have had a motorcycle. My first motorized vehicle was a Wizard motorbike, I bought a kit with a 26-inch bicycle."
When he came to Ansonia, he worked from August to November, putting together ideas for a police department and organizing.
"I did a couple of internal investigations before opening for business."
He enjoys the court appearances he has to make on the cases.
"I received an award from the state while in Montgomery County for taking a repeat DUI offender off of the road because he was an arrested 11-time offender," the retiring chief stated.
Yes, Shapiro has enjoyed working in this community and has plans to keep on staying in touch as he will maintain his current residence, which isn't that far away.
He is also a familiar face at the annual Breakfast With Santa, which is put on each Christmas season at the Ansonia American Legion.
"I was the egg scrambler," he said. "I'd do it again if they need me. I will still scramble their eggs."
He also directs traffic in Ansonia when Eldora Speedway closes up after a race and fans make their way into town en route to their destinations…sometimes until early morning.
Shapiro is also always behind the wheel of his cruiser in the various parades that take place in town.
The most fun he said he has ever had during his time as chief here was during the Queen of Hearts' drawings that brought thousands of people to the village in 2017.
"There were people here from all over, and I enjoyed that," he said. "I had a ball, but there were some chilly nights. The last night, there were 22 police officers on duty with us and the sheriff and a half dozen off-duty police officers, but everything went pretty good except for some people walking across the street in the traffic."
He even ran for Darke County sheriff one year but wasn't too surprised that he lost to incumbent Toby Spencer. Shapiro, basically an out-of-towner, knew it would be a challenge and accepted that.
"My life has been an interesting ride," Shapiro said. "I really like Ansonia, the town, and Darke County."