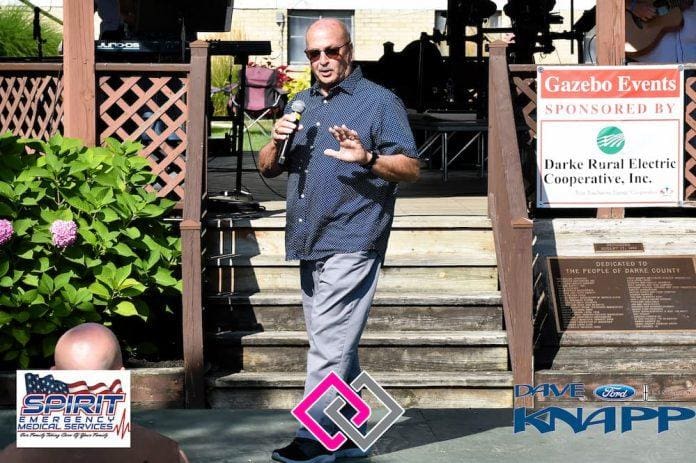 GREENVILLE – The Great Darke County Fair held its Sunday morning church service at the gazebo located at the entrance to the fairgrounds with a large gathering filling all available seating.
The church service was presented by the Ansonia Church of God and Greenville's Northside Community Fellowship.
Northside's music leader, Jason Wright led the worship service while Pastor Randy Brown of Northside brought the Sunday morning message.
"It was great," said Pastor Brown. "I had some reservations just because of the setting, not like our church and just little things – little things that maybe throw you off a little bit like holding a mic. I walk around, but it was a great crowd. I think most of them kept with me and most importantly God was honored, that's why we did it – so God would be honored here at the fair."
Pastor Randy Brown shared some important words from the Bible stating;
"Adam sinned and we all sin because of Adam. We're all sinners, we are born into sin and God is a Holy God and He has to have that sin removed for us to be Holy, or without sin so that we can have a relationship with Him and that comes through Jesus Christ and what He did on the cross."
"He paid for our sin, we just need to accept Jesus Christ, ask for forgiveness of sin and commit our lives to Him. We'll do that if we really trust in Him and then after we trust in Him, we need to find a church that preaches the Bible, preaches the truth, the Word of God that never changes and grow because the Bible says that we should grow and mature and then we will find out God's will for our life."
"I don't think there is a better verse than the most popular verse in the Bible – John 3:16. For God loved us so much that He gave us His Son that whoever believes in Jesus Christ will not perish but have everlasting life."
"It's interesting that that verse is the most well-known but it really encompasses the Plan of Salvation," Pastor Brown concluded.