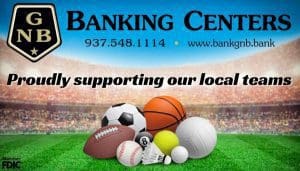 UNION CITY – Mississinawa Valley Jocelyn Hoggatt signs her letter of intent to play Volleyball at Wilmington College.  Hoggatt is 5'10" senior and a 4-year volleyball, basketball and softball player.
In volleyball she led the Western Ohio Athletic Conference in the 2022 season with 85 aces and was 4th in the league with 244 kills.  She is a starting forward on the girls' basketball team that is currently 17-3 and looking to make a run in the upcoming tournament.
Hoggatt was really undecided about college and actually had someplace else in mind when she was contacted by several Wilmington coaches.
"I kind of considered the possibility of playing in college but just wasn't sure if I wanted to do it but after several visits I really like the school and the head coach" Hoggatt said.
She is planning to study biology with a pre-dentistry track to become an Orthodontist.
Jocelyn is the daughter of Scott and Krista Hoggatt, and she acknowledged their support.
"I'm very blessed to have my parents allowing me to do club volleyball throughout the years.   I've done club volleyball for four years and will finish up this year with Legacy out of Tipp City," Hoggatt stated.
"The support from my family and friends has been great over the years and I'm really excited for this opportunity and looking forward to my future at Wilmington," Hoggatt concluded.