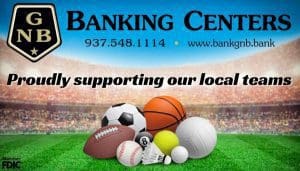 UNION CITY – The Mississinawa Valley Blackhawks celebrated senior night with a 65-37 win over Tri-County North.
Prior to the contest 3 seniors were recognized Jocelyn Hoggatt, Xochitl Lozano Licona and Ava Stump.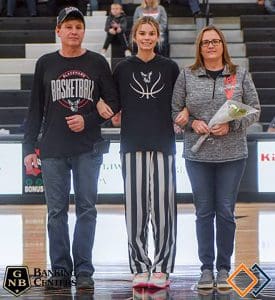 Jocelyn's parents are Scott and  Krista Hoggatt.  She is a 4-year volleyball, basketball and softball player.  Student Council 4 years, 4-H 12 years, National Honor Society 2 years, SADD 4 years.  Jocelyn plans to attend Wilmington College where she will continue playing volleyball and major in Biology with a pre-dentistry track to become an Orthodontist.
Xochitl's parents are Erin and Adrian Licona.  She is a 4-year basketball, 2-year Cross Country player.  SADD, We are the Majority, Spanish Club, Art Club, MVCT FFA, National Honor Society and MVCTC Ambassador all 2 years.  Her future plans are attending MVCTC for Veterinary Science.  Upon graduation she plans to attend Wilmington College to major in pre-veterinary scient to become a Livestock Veterinarian.
Ava's parents are Shellie & Jeremy Stump.  She is a 4-year Volleyball and Basketball player.  Student Council 3 years, Jackson Friendship 4-H Club 8 years, Art Club, Spanish Club, SADD, HOSA, MVCTC all 2 years and We are the Majority 1 year.  She plans to attend a 4-year college and major in Dental Hygiene.
All 3 seniors saw considerable action in the game and drew praise from coach Michael Paige.
"Well, I think having Jocelyn as a leader here on our team really means a lot because she was a captain of the volleyball team as well, her senior leadership and maturity has actually helped our team out a lot this year.  Her play for us coming off the bench has actually been a big lift for us especially on defense," paged lauded.
"Ava hasn't really had a chance to play because she's coming off an ACL injury but tonight we were able to get her out there and hopefully can get her more playing time going forward, she's been a big part of our team over the years," Paige commented.
"Xochitl is a great kid and does everything we ask of her, and it was good to see her score in the game tonight," Paige praised.
The Panthers played the Hawks close for much of the 1st quarter, but Mississinawa full court pressure defense started to take a toll on Tri-County North as they opened up a 15-8 lead.
Syenna Purdin started hot scoring 6 of her 13 points in the game.
Mississinawa used a balanced attack with Taylee Woodbury sharing the ball with some awesome passing to take a 31-17 halftime lead.
The Blackhawks doubled up the Panthers in the 3rd quarter 20-10 for a 51-27 lead.  In the quarter Purdin once again had 6 point, Woodbury 4 and Brenna Price 4.
North came into the game with a 10-7 record and 5-4 in the WOAC but was unable to close any ground in the final stanza.  The Hawks would record the 65-37 to improve to 14-2 overall and 8-1 in WOAC.
Woodbury led all scorers with 16 points, 5 assists and 5 steals.  MacKenzea Townsend had 14 points and 12 rebounds, Syenna Purdin 13 points and 3 steals.
Tri-County North was led by Hannah Webster with 14 points, Rilee Terry 12 rebounds and Nani Garcia with 6 assists.
North will be back in action on Tuesday at Twin Valley South while Mississinawa will take Ansonia Saturday in the Route 47 shootout.
The Blackhawks are having one of their best seasons in a very long time and coach Michael Paige wants to keep his team sharp, focused and is thankful they have some tough games coming up to prepare for post season tournament and still an outside shot at a WOAC title as they sit in 2nd place at 8-1, a game behind both 9-0 Preble Shawnee & Tri-Village.
Mississinawa has league game with Preble Shawnee on Thursday January 26th in Gratis and the Arrows have a match-up at Tri-Village on Thursday February 2nd.
"Obviously, we got a date with Preble Shawnee that is going to be a huge game for us, and it'll be a good game to show us where we're at. We've had a few games recently with a running clock which kind of get your team out of chemistry a little bit so it's important for us focused as we move into these big games down the stretch," Paige concluded.
Box Score:
Score By Quarter:
TCN     08        09        10        10 – 37
MV      15        16        20        14 – 65
Team Scoring:
TCN Garcia 5, Cherry 6, Lefeld 5, Webster 14
MV  Ojeda 3, Woodbury 16, Lozano-Licona 1, Fritz 6, Price 8, Purdin 13, Seubert 2, Townsend 14