In recent years, I have not decorated for the yuletide holidays, but a couple of things have spurred me to do so this year.
I really stopped doing it since we've been at our current location for almost 15 years, except for a few little exceptions.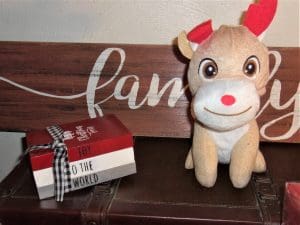 We were moving to a smaller place in 2008, so I decided to downsize and sold my collection of decorations. I kept a few…just in case.
There has been no Christmas tree of size since in our decorating scheme, I'm guessing, 21 years or so, as a visiting dog liked to attack our tree. Besides, there really is no room here and that's okay.
Tiny trees will suffice for us.
So back to what sparked my interest in putting up decorations inside the house this year, is when I, first and foremost, interviewed, Jerica and Nathan Stafford here in Ansonia on their property decorations and lighting display.
My decorating is nothing compared to theirs but it's good enough for Jamie and me. Jerica and Nathan made me see that it's important to share the holidays with others and do it with love.
Christmases are not really the same anymore without Mom and Dad, but I have to remember that I still have Jamie and he loves this kind of thing. So why not?
Also, Jamie and I each received a special Christmas gift from two of our new-found friends.
The homemade craft I received and the stuffed reindeer Jamie received are the cutest things and something we'll always cherish. How sweet of them!
Seeing the smile on Jamie's face when he got was handed the reindeer I knew I had to decorate inside the house at least. I began thinking, 'why not decorate in some manner this year.' Life's too short not to enjoy it.
My older decorations are nothing fancy, but are reflective of the holidays.
Maybe next year, Jamie and I can visit close-up Dick Brown's exquisite Christmas lighting display east of Greenville and perhaps some others.
Of course, we know the Reason for the Season and we shall never forget that.
So, as I end this, enjoy getting ready, if you haven't already started, for the holidays fast approaching. It will surely put the spirit in you.
*****
Jamie and I extend our condolences to the families and friends of Lauren Elizabeth Bryant, Gene Wetzel, Douglas Braun and Chester Shell Jr.,
******
Please pray for these people: Ron Mills, Debbie Mayse, Ronnie Norton, Sonja and Dan Coppess, Miranda Weist Flora, Ericka Trigo, Jeanie Francis, Noah Back, Mary Moran, Harvey Hinshaw, Bruce Kaiser, Angie Brown, Nikole Baldridge, Tracy Bashore, Melikka Riffell, Amanda Mote, Tom Moody, Gary Francis, Anthony and Theresa Grillot, Lee Everhart, Paul Gigandet, Doug Whittington, Tracy Pratt, Kinley Bernard, D'Arleen Waymire, Tish Hodson Shepherd, Clinton Randall, Sherry Klingshirn, Zach Urbancic, Sharon Gamster, Connie Stachler, Rick Libert, Harold Libert, Randy Heck, John Rimmer, Joan Keen, Carol Hemmerich, Sharon Hummel, Dave Hinshaw, Larry P. Fitzwater, Jim Thomas, Neal Gray, Michael Mowery, Debbie Mayse, Kenny Edwards, Judie Hathaway, Ralph Byrd, Della Burch, Ned and Brenda Wallace, Connie Buemi Hodson, Rick Marker, Randy Garrison, Steve Waymire, Warren Menchhofer, Kenton Turner, Gary Knick, Karen Hecht, Barbara Alexander, Jannie Barrow, Kathy Gragorace, Danny Foster, Noella Combs, Clay Sheffer, Becky Everhart, Sharon Miller, Marie Rieman, Mary Bryant Arnett, Becky Oliver, Ronnie Young, Albert Duncan, Jayden Martin, Jeff Rider, Stefani Priest, Steve Neff, James Enicks, Joann Freeman, Cathy Collins Peters, Donna Bixler, Vanna Hannam, Linda Subler, Roger McEowen, Jerri Barber, Sally Burnett Ganger, Gloria Hodge, Jeff Baltes, Judy Hoffman and daughter Shelly, Cathy Melling, Scott Clark, and all of those who are suffering from other life-altering illnesses.
******
Happy birthday:
Dec. 8 to Patty Riegle and Nick McEowen.
Dec. 9 to Jackie Kimmel, Daryl Locke and Georgia Young.
Dec. 10 to Tony Steed and Kiersten Schricker.
Dec. 11 to Tim Gibboney, Steve Gates, Katie Smith, Susan Hartrum, Ashlee Hetzler and Annette Livingston.
Dec. 12 to Jim Kammer, Kari Bartram, Allen Akerman, Randy Sanders, Virginia Rinderle, Ron Hines, Vivian Dapore and Randy Neal.
Dec. 13 to Aaron Byrd, Daryl Riffle, Ralph Helmer Jr., and twins Demi and Dani Hathaway.
******
Think about it: "True heroism is remarkably sober, very undramatic. It is not the urge to surpass all others at whatever cost but the urge to serve others at whatever cost.." — Author Unknown