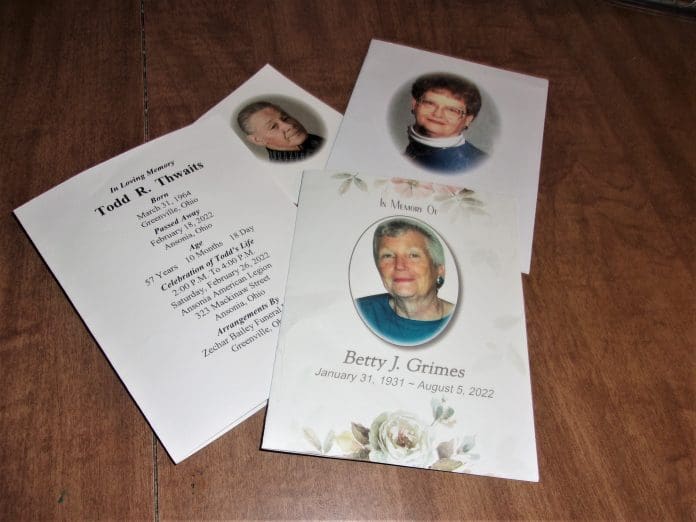 During this time of year, my thoughts turn to those we've lost in the past year. There were quite a few people, but not as many as who had passed away in 2020, the year of the COVID.
And, aren't we seeing a lot of people suffering from all kinds of illnesses? How sad. I wish the best for those who are suffering.
I began doing some research and thought back to whose lives are now gone from us within the last year.
The biggest, but not the only, loss in my life was that of Betty Grimes, of Union City. She was my friend, and was my mentor in some of my writing, especially columns. Betty was proud of her family, her friends and her life in Union City.
I knew she was having health issues, but didn't know how bad they were. I don't know how many times I wanted to stop by her house and talk to her but I was busy in some daily activities in her town that I thought I would do it later.
Guess what! I was too late and I hate myself for that. If I would have known, I surely would have dropped in on her. Her husband, John, told me they had just put her in the nursing home and I did not even know that until her viewing. Yes, she will truly be missed.
She already is and has been since her death. Famous last words.
I have tons of names of people who didn't make it through 2022, and I wrote down their names. For space sake, I will try to shorten that list. I don't mean to leave anybody out, but that may happen because of the amount of people involved.
Family and extended family members who passed away were Norma Byrd, Ron Bucholtz, Linda Cochran Maier and Audrey Wion.
People had had ties or connections with the Ansonia School District who died included this past year were classmates Charles Broering and Doyle Woodman, and the following: Roger Sanders, Margaret Floyd, Martha Garner, Peg Pretzman, Jeff Stewart, Dave Black, Max Subler, Wanda Brewer, Kim McKnight, Norma Gard, Julia Branham, Sherry Mueller, Joe Young, Shelley Brinley, Brenda Brewer Brinley, Wayne "Harvey" Farmer, Doris Mikesell, John Esser, Brian Esser, Diane Thobe, Larry Thornhill, Herman Kolb, Art Price, Aaron Weeks, Diane Weeks, Charlie Foster, Regina Fischer, Danny Batten, Tracy Bashore, John Kell, Elmer Long, Matthew Knight, David Wombolt, Alice Hesson Cornett, Gary Voke, Bob Kozak, Bill Duncan, Don Slyder, Paula Stewart, Sue Jenkins, Robin Hoschouer Zeller, Penny Purnell and Carolyn Fosnaugh.
I even noticed several employees from Cal-Maine who passed away this year. They are: Larry Eugene Baker, Martin Self and David Kramer.
Business people around the county who passed away were Dick O'Brien, Dr. Jerome Leahey, Kevin Wampler, Barbara Olwine, former Commissioner James Barga, Gene Schultz, D. Allen Jefferis, Howard Rehmert, Dr. Davide Farst, DVM, John Franklin, Darke County Fair Board member Dave Niley and educator Richard D. Miller.
Veterans now gone include Al Bliss, Dwight Emmons, Jerry Bortner, Denver Harter, Robert N. Jones, Robert E. Lee, Louis Fiely, Kent Klosterman, John Waggoner, Jerry Onkst, Jim Murphy and Jimmy Bain.
People I've gone to church with over the years who have passed this year included Lila Pinney, Elizabeth Brewer and Dale Lockhart.
And, to wrap up my list, I added the names of other deceased friends and acquaintances I've known, as follows: Earl Kriegbaum, Dick George, Mary Ann Mehaffie, Iris Bolen, Delmer Bender, Ronda Christian, Lynn Keller, Richard Ade, Dorothy Randall, Norma Parin, Joanne Fisher, Ozzie Coby, Mary Faller, Don Drew, Brenda Copeland Detrick, Shirley Jay, Sue Best, Sharon Harpest, Jennifer Peck, Wilma Fellers, Martha Singleman, Joyce Baker, Ned Curry, Fred Curry, Marcia Rhoades, Mary Alice Young, Richard "Dick" Baker, Tim Libert, Gene Rismiller, Jeff Madewell, Joanne Crick, Marcella Ryder, Denny Saintignon, Danielle Crissinger, Matt Hiestand, Angie Sanders, Diana Dowler, Lois Schuh, Karen Grote Bucklew, Gloria Hole, Steve Foutz, Dale Clark, Richard Neff, Carol Gower Fasnacht, William Rich Jr., Greg Dotson, Sherry Lutz Wiley, Kathy Cromwell, Harvey Crick, Joanne Crick, Chuck Greer, Marjory Swabb, Ronald Bennett, Terry Coblentz, Joanne Shelton, Judy Coppess, Keisha Dull, Karen Gehron, Joyce King, Barb Sharp, Corey Fleming, Doris R. Mikesell and James F. Delk.
I know life has to go on, and it will be difficult. All we can do is celebrate them and be thankful that we got to know these people who passed through our lives. Memories last a lifetime.
******
Jamie and I extend our condolences to the families and friends of Stephen Richard Beanblossom, Sharon Prosyk, Nancy Mae Brown, Darren Gray, Ronnie Young, Carolyn Joanne Fink, Joyce Morton, Jim Rider and Terry Coblentz.
******
Please pray for these people: Ron Mills, Gary Eichler, David Pretzman, Clinton Randall, Abby Heck, Linda Lore, Ralph Byrd, Beverly McCabe Baker, Tena Black, Linda Arthur, Rusty Maloy, Debbie Mayse, Ronnie Norton, John Newbauer, Sonja and Dan Coppess, Miranda Weist Flora, Ericka Trigo, Jeanie Francis, Noah Back, Mary Moran, Harvey Hinshaw, Bruce Kaiser, Angie Brown, Nikole Baldridge, Melikka Riffell, Amanda Mote, Tom Moody, Gary Francis, Anthony and Theresa Grillot, Lee Everhart, Paul Gigandet, Doug Whittington, Tracy Pratt, Kinley Bernard, D'Arleen Waymire, Tish Hodson Shepherd, Zach Urbancic.
Also, Sharon Gamster, Connie Stachler, Rick Libert, Harold Libert, Randy Heck, John Rimmer, Joan Keen, Carol Hemmerich, Sharon Hummel, Dave Hinshaw, Larry P. Fitzwater, Jim Thomas, Neal Gray, Michael Mowery, Debbie Mayse, Kenny Edwards, Judie Hathaway, Della Burch, Ned and Brenda Wallace, Connie Buemi Hodson, Rick Marker, Randy Garrison, Steve Waymire, Warren Menchhofer, Kenton Turner, Gary Knick, Karen Hecht, Barbara Alexander, Jannie Barrow, Kathy Gragorace, Danny Foster, Noella Combs, Clay Sheffer, Becky Everhart, Sharon Miller, Marie Rieman, Becky Oliver, Albert Duncan, Jayden Martin, Jeff Rider, Stefani Priest, Steve Neff, James Enicks, Joann Freeman, Cathy Collins Peters, Donna Bixler, Vanna Hannam, Linda Subler, Roger McEowen, Jerri Barber, Sally Burnett Ganger, Gloria Hodge, Jeff Baltes, Judy Hoffman and daughter Shelly, Cathy Melling, Scott Clark, and all of those who are suffering from other life-altering illnesses.
******
Happy birthday:
Jan. 11 to Donald Mong, Craig Scanlon, Alee Gates, Jacob Buchy, Kurt Schlechty, Bryant Fox and Chris Eby.
Jan. 12 to Kasey Widener, Tim Bertke, Jean Young, Tim Cook, Valerie Kuntzman, Dave Webb, Kendra Brewer, Michelle Dotson, Kelly Hileman, Danny Saintignon and Meladie Brewer.
Jan. 13 to Susan Butts, Betsy Nisonger and Tricia Oliver Leichty.
Jan. 14 to Christy Turner Smith, Sammy Holsapple, Aaron Sebring, Scott Young, Larry Pierron, Joy Roseberry, Jeff Wirrig, Amber Biddlestone and Brad Shafer.
Jan. 15 to Jane Faller Hole, Tyler Neal and Mike Meckes.
Jan. 16 to Ruby "Toots" Coby (90), Gary Hummel, Nancy Linebaugh, Ida Noggle, Jim Grant, Dorothy Sanders, Jeff Byram, Tish Hodson Shepherd, Brian Jones and Miranda Wiest Flora.
Jan. 17 to Kevin Riffell, Tyler Hiestand, Wanda Burke, Anita Unrast, Kenton Moore, Lois Drew and Karen Young.
Happy anniversary to Zane and Connie Keller (60 years) on Jan. 12
******
Think about it: "Nothing is more frequently opened by mistake than the mouth." –Author Unknown