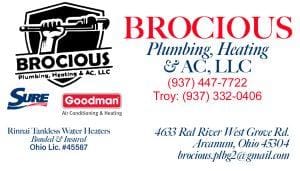 With the school season set to come to a close, I would like to praise our young people who are excelling or have fared well at their respective activities.
It seems more and more everyday some of our locals are doing remarkable things.
Sure, there are some who don't measure up to that but it's not because the school or community doesn't offer various organizations or programs. There are many programs available, whether in school or church.
Life comes easy for some and not easy for others. Yet, each student has to have something that he/she is successful with and those should be noteworthy as well.
I attended the Ansonia FFA banquet recently and that is just one of the organizations where students learn not only about living life today but prepares them for the future. So, do home economics classes and business classes.
And, then you have athletics. I don't follow much sports, but it seems like more local teams are excelling at the regional, district and state levels. whether it be in football, basketball, baseball/softball, volleyball, soccer, track and field, golf or tennis.
So many more young people are also achieving high goals in such organizations as Boy Scouts, Girl Scouts, Cub Scouts and Brownies, not to mention the amazing 4-H program we have here in Darke County. Many of those projects will be displayed and exhibited at the county fair coming up soon.
I always loved to watch the 4-Hers show off their projects in the revues held in the Youth Building of the Coliseum during fair week. When the girls would model their sewing projects, I envied them and wished I would have been able to do that, but for some reason wasn't. For one thing, I'm not fashionable but yet I like beautifully made things.
That would probably go with any project at the fair, including in the animal departments, fine arts, domestic arts and Grange.
We need to show these young people appreciation. Yes, I have admiration for all children who are successful in their endeavors but I also am proud of those who may not have succeeded but at least tried.
Not only do they make themselves proud but also their families and the entire community as well.
Educators, advisors and coaches must also be acknowledged for making these achievements happen.
Yes, graduation is coming up very soon and I want to wish everyone who receives their diploma this year the best success in all that they do from here on out. Congratulations!
Let's make the future great!
******
Jamie and I extend our condolences to the families and friends of Sharon Everman, Matthew Monnin, Pat McCarthy, Jerri Oliver, Marie A. Young, June S. Kasunic, Ilze (Jekabsons) Koch, Mary Kate McEowen, Evelyn Nealeigh and Scott Borger.
******
Please pray for these people: Tommy Farmer, Margaret Hoening, Manual Macias, Kathy McNutt Dapore, Lester Beisner, Delores Beisner, Kermit Foureman, Chuck "C.W." Cruze, Mark Lovejoy, Pat McCarthy, Connie Buemi Hodson, John Riegle, Michelle Grottle Wright, Cheryl Slonaker Gilmore, Judy York, Donald Booker, Dennis Leeper, Connie Stachler, Randy Heck, Ronnie Norton, Marie Schlechty, Jeremy "Jerm" Burke, Bev Brumbaugh, Gary Eichler, David Pretzman, Clinton Randall, Abby Heck, Linda Lore, Ralph Byrd, Beverly McCabe Baker, Doug Winger, Rusty Maloy, Debbie Mayse, Sonja and Dan Coppess, Jeanie Francis, Noah Back, Mary Moran, Harvey Hinshaw, Bruce Kaiser, Angie Brown, Nikole Baldridge, Amanda Mote, Tom Moody, Gary Francis, Anthony and Theresa Grillot, Lee Everhart, Paul Gigandet, Doug Whittington, Tracy Pratt, Kinley Bernard, D'Arleen Waymire, Tish Hodson Shepherd, Zach Urbancic.
Also, Sharon Gamster, John Rimmer, Joan Keen, Carol Hemmerich, Sharon Hummel, Dave Hinshaw, Larry P. Fitzwater, Jim Thomas, Neal Gray, Michael Mowery, Kenny Edwards, Judie Hathaway, Della Burch, Ned and Brenda Wallace, Rick Marker, Randy Garrison, Steve Waymire, Warren Menchhofer, Gary Knick, Karen Hecht, Jannie Barrow, Kathy Gragorace, Danny Foster, Noella Combs, Clay Sheffer, Becky Everhart, Marie Rieman, Becky Oliver, Jayden Martin, Stefani Priest, Steve Neff, James Enicks, Joann Freeman, Cathy Collins Peters, Donna Bixler, Vanna Hannam, Linda Subler, Roger McEowen, Sally Burnett Ganger, Gloria Hodge, Jeff Baltes, Judy Hoffman and daughter Shelly, Cathy Melling, Scott Clark, and all of those who are suffering from other life-altering illnesses.
******
Happy birthday:
May 23 to Tonya Hartrum Hines, Sue Schlechty, Vi Klackner and Abigail Helmke.
May 24 to Carla Cothran.
May 25 to Josh Miniard, Bruce Schuette, Darrell Jones, Bob Hartzell, Dylan Riffell, Doug Cothran, Brittany Leeper, Amy Schlarman, Richard Wisner, Brian Phillips and Carol Littman.
May 26 to James Strange, Ben Studabaker, Judy K. Middleton, William Kammer, Carolyn Waymire Don Waymire, Pam Pratt, Bobbi Verneman and Nancy (Miller) Keiser.
May 27 to Penny Strawser, Doug Whittington, Brenda Godwin, Jerry Tingley and Joann Fowler.
May 28 to Zak Niekamp, Ron Kremer and Saceia Rismiller Armstrong.
May 29 to Jane Hemmerich Kaiser, Don Hampshire and Matt Barnt.
Happy anniversary to Randy and Sue Byrd on May 25; and John and Missy Widener and Rick and Nancy Moody, all on May 27.
******
Think about it: "Loyalty is a basic requirement of friendship." — Author Unknown