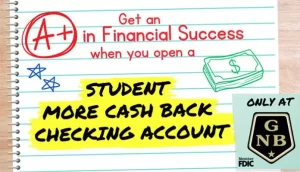 GREENVILLE – The Greenville Lady Wave used a Thursday night 3-0 win over the visiting Troy to sweep the Lady Trojans two games to none on the 2023 MVL season.
"That's a huge deal," said Greenville coach, Michelle Hardesty. "When was the last time Greenville's beat Troy twice in a season. Super excited for these girls."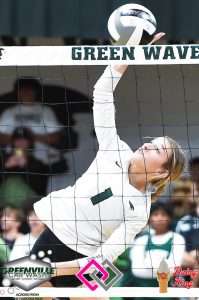 Greenville earned a 3-1 road win over Troy back on August 28 by scores of 22-25, 25-21, 25-19 and 25-19 and proved to be better the second time around with scores of 25-19, 25-14 and 25-20 taking the night 3-0.
"It was a hard earned win," Greenville assistant coach, Jim Hardesty said. "We played really consistent on the night, got a few people time there at the end that normally don't get playing time. It was a good effort all the way around."
The Lady Wave started slow trailing 4-11 in the opening set before Skylar Bryson stepped to the serving line with the Lady Wave going on a 9-0 run including 3-consecutive Aces to lead 13-11. Troy battled back to lead 19-17 only to have Greenville close out scoring with an 8-0 run to win 25-19 and lead 1-0.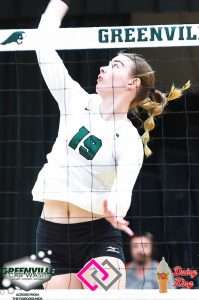 "We played two tough games in a row against Tippecanoe and Butler," Jim noted. "We really fought hard against Butler and just come up short. We started a little bit slow but once we got going we were pretty much in control of this match from the start."
Greenville jumped out to an 8-2 second set lead bringing a timeout from the Troy bench. The Lady Wave made it a double digit lead at 18-8 on its way to a 25-14 win.
Set No. 3 had the game tied at 7-7 before the Lady Wave reeled of 5-unanswered points to lead 7-5 and pushed its lead to 20-12 before coasting to a third set 25-20 win to get the sweep over the Lady Trojans on the night and the season.
"Kindyl Peltz is a great server," said Coach Jim Hardesty. "She was our leading server last year and right on pace again but we had an excellent job from Skylar Bryson and Shyanne Gibboney. Both did a great job of serving when we needed them to."
"Passing wasn't terrible but wasn't in position where we could get her (Brooke Schmidt) the ball early, where we could get good swings but by the end of it we started getting the ball where we needed," he added. "Olivia Flatter had a real strong night. We really took control of this match through the middle tonight, not on the outside."
With the MVL win Greenville improves to 10-6 overall and 8-4 in conference play.
"It is really big for here," Jim said of the double digit wins with 6-regular season game remaining to be played. "Not a program that has been strong in the top but right now we've turned the corner. We're going to be something to compete with from here on out."
"They're getting pretty hyped up," Coach Michelle Hardesty concluded. "They wanted this one bad. Now we just go get the next one because they want that one just as bad too."