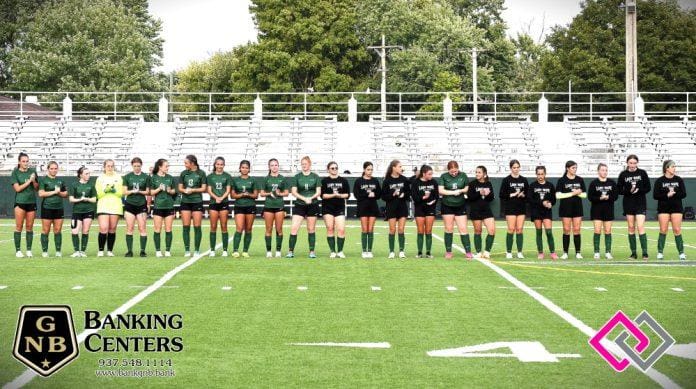 GREENVILLE – The Lady Wave and the visiting Twin-Valley South Lady Panthers played to a 2-2 tie after 80 minutes of action to open the 2023 OHSAA regular girls soccer season.
"This is the earliest I've ever played a real game," said veteran Twin Valley South coach, Chad Newport . "We had two scrimmages canceled, we have four people that are still fighting injurie. They leaned on us, they had a nice game plan and we just didn't play well."
Twin-Valley South freshman Kelsie Maggard found the back of the net at 12:25 on the first half clock to give the Panthers a 1-0 lead that would hold up through the first half of action.
"The first half I though we came out meek, very gentile, passive, had no confidence and didn't communicate," said Greenville coach, Dave Ernst. "They got challenged at half time and played different. They took it on themselves to play better."
Greenville sophomore Jayda Lyons took advantage of a Sami Elam (freshman) assist to score the Lady Wave's first goal of the season and game and knot the score at 1-1 with 12:25 showing on the second half board.
The Lady Wave took its first lead of the day at 6:06 showing when freshman Marley Purdin found the back of the net with the aid of an assist from sophomore Annabella Snyder and lead 2-1.
South battle back to even the score with just 44 second left in the match when Kelsie Maggard scoring her second goal of the night and give the Lady Panthers a season opening tie.
"They got a couple goals and then we had to step up," said Coach Newport . "We had a little freshman, Kelsie Maggard score both goals tonight. Kelsie – my little freshman stud apparently. She's going to be a good player for us."
"I can't take anything away from Greenville," Newport continued. "That 14 (Kaelyn Gump) in the midfield is a really nice player. They had a good game plan, beat us up and played over the top. We didn't adjust well but we had two or three good chances and we took advantage of two of them.  I'll take a tie when we're down 2-1, I'll take a tie every day of the week."
"The other team earned it," Coach Ernst said. "They put it where they wanted to, we just didn't focus the last 44 seconds which that will come with experience."
Twin Valley South is a good program," Ernst added. "They compete really well in that conference (WOAC) with Newton. It's a good measuring stick.
The Lady Wave hosts the Graham Lady Falcons Tuesday, August 15 with a 7 p.m. start time at Harmon Field and travel to Celina Thursday, August 17 to take on the Lady Bulldogs.