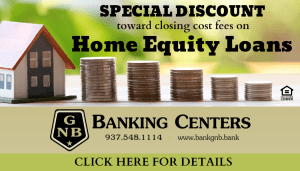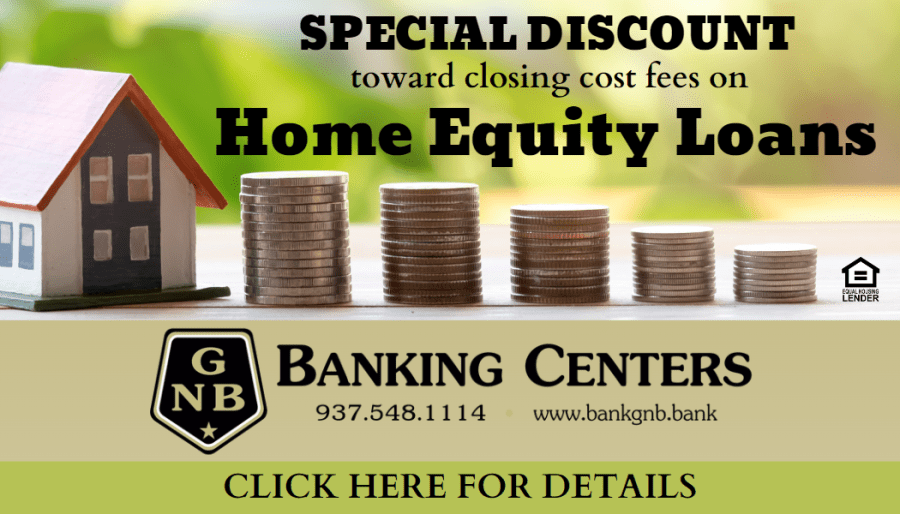 VANDALIA –  #1 Tri-Village girls basketball team survives #2 Fort Loramie's last second half court shot that went halfway down and then popped back out to give the Patriots a long awaited 32-30 victory sending them to the State Final Four for the 2nd time in school history.
The Patriots have made it to Regionals 11 times since 2010 and ironically the last time they advanced to the final four … standing in the way was Fort Loramie.  In fact the two teams have played 7 times since 2010 with Loramie winning 5 of them.  The Patriots and Brad Gray have also made the Regional Finals 7 times in that span coming up short against Fort Loramie multiple times, along with Minster and Cincinnati Country Day.
Obviously it hasn't been easy to get to the final four and while things were looking good late in the game Fort Loramie has had a knack of pulling out miracles and it was only fitting the drama between them would go down to last second of the contest.
"When that last shot went up, I was going Oh no, and in my head I am saying a lot more than Oh no, as the ball was in the air and that thing looked like it was good, I'm like give us break here, knowing the luck we've had in some of these kinds of games … but today I think the basketball Gods finally decided to smile down on Brad Gray and the Lady Patriots as the ball rattled out and fortunately enough we are moving on," an elated coach Gray said after the game.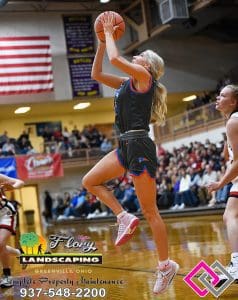 It's no secret when you play Fort Loramie they hang their hat on defense and can attack you in multiple ways and with multiple line changes and there really is no way to simulate that in practice.  Being able to weather any early runs while trying to adjust to the style can overwhelm teams and then they are out of the game before it begins.
The Patriots did just that, weathered the Redskins early with Rylee Sagester knocking down a long-contested triple along with Morgan Hunt and Torie Richards both scoring at the rim tying the game at 7 midways through the 1st quarter.
Sagester then let one go even deeper much to the dismay of Loramie coach Carla Siegel upset she was even able to catch the ball to get the shot as the PATS went up 10-7.
A Torie Richards steal led to a fast break and lay-up and then a Sagester runner at the buzzer gave the Patriots a 14-9 lead after one quarter of play.
Offense was at premium in the 2nd quarter … the Patriots who averaged 65 points a game scored just two … but to their credit they held the Redskins to just 4 and led 16-13 at the break … but they couldn't help wondering about the points left on the floor in the first half and would be a discussion point at the locker room.
"We got to make the shots we're getting; I mean we're really missing a lot of easy shots in the paint; we're rushing things instead of getting the ball to the chin, gather and even use a head and shoulder fake," coach Gray said.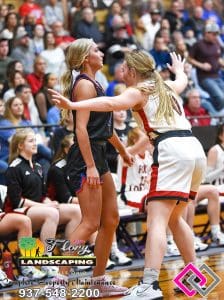 Despite that coach Gray didn't sense any frustration from his kids.
"I think they felt really good, because defensively we were able to keep getting stops, which was allowing them not to panic," Gray stated.
In the third quarter Loramie senior Ava Turner who was in foul trouble returned and got her first basket that gave Fort Loramie their first lead of the game since the first quarter.
Rylee Sagester answered with a long two with just over 5:00 to regain their thin lead 18-17.
Torie Richards scored a minute later on a drive into the middle of the lane and that was followed up by a Sagester pass in transition to a leaking Morgan Hunt as the Lady Patriots extended their margin 22-17, forcing Redskins coach Carla Siegel to call a timeout to delay the momentum of their 5-0 run midway in the quarter.
Loramie would answer making a run of their own in fact taking the lead 25-24 heading into the final stanza.
Their suffocating defense over the course of the game can make the best of players crumble and it's about this time in the 4th quarter when legs are spent and where the Redskins have a decided advantage being able to sub in more players.
Sagester was fouled on a drive to the rim and went to the free throw line making one of two to tie the game and moments later sensing the team needed a big play and not having many opportunities let one go from 35' to spring back ahead 28-25 with 4:08 to go … she then followed it up with another one energizing the Patriot faithful now up 31-25 and prompting a Loramie timeout with about 3 minutes to go.
With the clock now becoming the Patriots ally Fort Loramie needed to gain possessions and still needed to give up 3 fouls to put Tri-Village in the bonus … which actually may have helped the Redskins who could gamble and be even more physical going for steals.
And the Redskins strategy worked as Ava Turner stole the ball twice and converted layups cutting the margin to 31-29 prompting a Patriot timeout.
One more turnover led to another failed fast break shot attempt by Victoria Mescher but she was fouled.  She missed her first free throw attempt but made the second allowing the Redskins to call a timeout to set up their pressure again with 31 seconds to play.
Fort Loramie fouled Freshman Kynnedi Hager on the ensuing inbound and finally the Patriots were in the bonus.
Hager missed the front end of the bonus giving the ball back to Fort Loramie.
"That was a big pressure situation for Kynnedi who's an 84% free throw shooter and obviously nerves got the best of her on the shot," coach Gray said.
But Hager redeemed herself on defense getting the stop and then was fouled with the ball setting up a return trip to the line with just 2.9 seconds left to play for a one and bonus.
Hager would make the first one becoming the only other player to score other than the seniors.
After a Fort Loramie timeout, Hager missed the second shot setting up the dramatic ending that nearly spoiled the Patriots dream of getting back to state.
Albers pushed the ball quickly up to half court for a shot that seemed to last an eternity and from the looks of it, it would send daggers into the Patriots hearts and lifting those of Fort Loramie as it rattled in and then out giving Tri-Village a dramatic 32-30 win.
Tri-Village was led by Rylee Sagester with 17 points, 4 big treys, Torie Richards 8, Morgan Hunt 6 and Kynnedi Hager 1.
Tri-Village shot just 29% for the game and from the free throw line.  Fort Loramie shot 24% from the field and 40% from the line.  Each team committed 13 turnovers.  Loramie won the battle on the boards 13 offensive and 24 on defense.  TV had 8 offensive and 22 on defense.
A lot of people wondered if the Patriots would ever beat Fort Loramie again but for Coach Brad Gray it wasn't about beating Fort Loramie as much as it was about winning a Regional Title and getting back to state at that is always the goal and Fort Loramie happens to always be one of those teams you have to go through.
"We felt all along we had the best players with our three seniors, and they just needed to go out and be the best players on the floor.  I have nothing but respect for Carla Siegel and what she has done at Fort Loramie with the girls' basketball program and the success they have been able to sustain for a long period of time over there.  We knew coming in it was going to be a huge challenge, but our best players were able to get the job done today," coach Gray said.
"It's a tie game late and Rylee did what Rylee does, not once but twice. I mean, no one's going to guard anybody out where she shot those threes. I mean, she finally decided you know what, I'm going to pull it and the place erupted, especially when she hit the second one. That's just what she's done her whole career. I mean, she's got unlimited range and showed she was the best player on the floor when we needed her," Gray boasted after the game.
It's also why she was selected as an Ohio Ms. Basketball candidate as she now has made 394 triples and scored 1,957 career points.
Coach Brad Gray has a quiet confidence in his team and the Patriots are embracing their goal of winning a state championship and when asked what is different about this team he responded with one word "Resiliency".
"What is different with this team has been our response mechanism to adversity, when things aren't going our way, they don't pout or panic about it. They truly believe in each other, and they believe in themselves enough to say we're going to get through this tough moment. And we're going to find a way, that is what we've done all year," Gray concluded.
The Patriots are headed to the final four where they will take on Berlin Hiland, the same team they played in their only state appearance back in 2012.  The game will be at UD Arena in Dayton, Ohio on Thursday March 9th at  8pm.