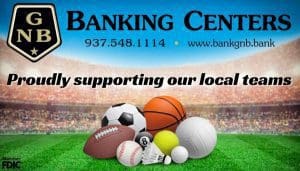 UNION CITY – The Mississinawa Valley Lady Blackhawks defeated the visiting Newton Lady Indians 58-33 in Thursday night WOAC action.
"Mississinawa is real good team," said Newton coach, Ryan Fiely. "Woodbury is a very good player, pushes the floor for them real well. They do a good job of running and filling spots. Their bigs rebound really well. Solid team that is going to be up there in our league."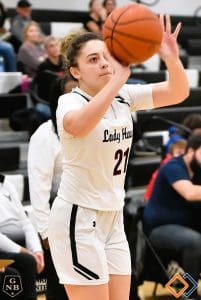 The Lady Hawks took the opening period 13-12 with five players getting in the scoring column including a 3-pointer each from Jocelyn Hoggatt and Syenna Purdin. Mercedes Craig paced the Lady Indians with five first quarter points.
"We have been having games where we have one really good quarter and not being consistent through all four," Filey said. "We show flashes of being able to play really good basketball but we're a little shorthanded, got some sickness going on. We have to deal with it. Hopefully through the holidays hear we get healthy and get back to playing really good basketball."
Newton grabbed its first and only lead of the night with Payton Nichols draining a trey to open second quarter play and give the Lady Indians a 15-13 lead. The Lady Hawks used a 22-4 scoring run to close out first half play and take a 35-19 lead to the break.
"We were trying a new defense the first quarter, something we're not used to running," Paige said. "We tried to run something a little bit different and we gave up more points than we usually give up so second quarter we switched back to more of what our normal defense is and we settled in and played a lot better after that."
Mississinawa Valley pushed its lead to 45-21 after three complete outscoring Newton 10-4 in the quarter.
Period No. 4 went to the Lady Blackhawks by a 13-10 count to give the home team a 25-point WOAC win.
Mississinawa Valley post player MaKenzea Townsend took advantage of her inside game to lead the Lady Blackhawks and all scorers with a game high 14-points.
"We know we have shooters, we know Taylee (Woodbury) can score, we know Syenna (Purdin) can shoot, Jocelyn (Hoggatt) can shoot," noted Coach Paige. "We're trying to get our bigs to start scoring in the paint to balance out our team and hopefully get better going to the tournament because we're going to need scoring down low against some of those bigger teams."
"We have a lot of girls that can score," Paige added. "Our bench is good, our JV team has a lot of freshmen, we have a lot of girls that can score coming off the bench so to have that many shooters gives us so many options and it just makes us a better team."
BOXSCORE:
MISSISSINWA VALLEY 58, NEWTON 33
MISSISSINAWA VALLEY – M. Townsend 15, T. Woodbury 14, S. Purdin 9, B. Price 8, J. Hoggatt 7, B. Seuburt 5 – TOTALS 19 5-11 5 58
NEWTON – Reese Hess 12, M. Craig 7, E. Szakal 4, P. Nicholas 3, Rylee Hess 3, B. Hines 2, F. Harbour 2 – TOTALS 10 4-8 2 33
3-POINTERS
Mississinawa Valley 5 (S. Purdin 3, T. Woodbury 1, J. Hoggatt 1)
Newton 3 (Reese Hess 2, P. Nicholas 1)
SCORE by QUARTERS
13-22-10-13 58 Mississinawa Valley
12-07-04-10 33 Newton