PITSBURG – Kameron Thurmond, a 2017 Franklin Monroe graduate and basketball player under veteran Jets coach, Troy Myers, recently received the 2022 Fairborn Police Department's Community Engagement Award in his rookie year. The award recognizes his outstanding service to the Fairborn Community.
"I am very thankful to be with the Fairborn Police Department," said Officer Thurmond. "I am very thankful to be of service to the community and service to everybody. It's what I always wanted to do."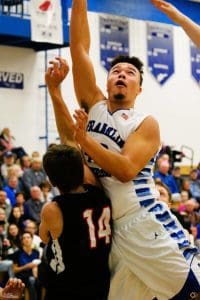 "Coach Myers here at Franklin Monroe always showed us to be a servant in any sort of way," he added. "This is my way of giving back to the people."
The 6'10" Thurmond often takes time to return to his alma mater to support Coach Meyers and the basketball program that had a big influence on his life and career following high school.
"This goes way beyond basketball," Coach Myers said. "What basketball was is an avenue for us to meet, bring our paths together and to bring our perspectives together."
"I learned so much from Big Kam and having him around here is just a blessing," continued Myers.     "When we first met, I knew he could teach me something, he could teach us something and ever since that first day to this day he's still doing that."
Following Franklin Monroe's home game a week before Christmas, a game the young and inexperienced Jets lost to Dixie, Coach Myers took time to talk about his former player and FM basketball with Thurmond looking on while nodding in agreement and his arm over Myers shoulder.
"There are guys that have gone through our program and have taken it for granted and then there are guys like Kameron – he's changed my life just because he has a perspective on life that we don't have in Darke County."
"He's going to be my brother for life. The game will end and the game will end for 99 percent of our kids but Big Kam, the Conley's and Ressler and the guys that keep coming back and really had a good heart about what we were doing – I don't want to live my life with anybody else. They have poured into me so much and I hope it has been reciprocal. They bring me a lot of joy."
Coach Myers understands basketball is much more than just wins and losses although important in learning life lessons for young adults in an ever increasing stressful job for many high school coaches.
"This is my 11th year and I understand from the public perspective that I am being judged on our performance," Myers stated. "The longer I do this – I'm not doing this for an audience, I'm doing this as a mission and if we can just effect and influence some guys like Big Kam we have to find joy in that."
"We're at the smallest level with one of the smallest enrollments in the state of Ohio," Coach Meyers concluded. "I'm certainly not making excuses but it's a challenge to perform consistently so we have to figure out where do we find our joy and where do we find our own success, our own definition of success and this is my definition of success."