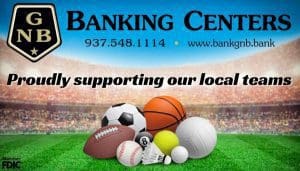 PITSBURG  – In a low scoring contest that featured strong defense it was the play of Newton in the 3rd quarter that made the difference as they held FM to just one free throw to take a 37-25 WOAC win.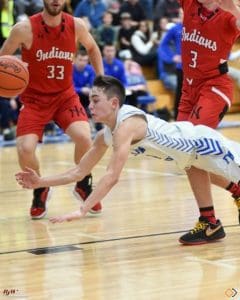 Newton jumped in front 7-2 on fielders from Quinn Peters and Harold Oburn and a triple from Hudson Montgomery.  The Jets had an answer with two triples, one from Ty Riffel the other EB Fall to go up 8-7 … but Oburn got it back for the Indians throwing one down to regain the lead 9-8 in the opening frame.
Both teams showed great patience in the 2nd quarter running offense with both defenses locked in tight.
The Jets grabbed the lead on a Fall jumper 10-9 only to see Newton run off 8 straight to go back in front 17-10.  The Indians offense got a spark from Aaron Colvin with 4 points and another 4 from Oburn.
Franklin Monroe however got a 3 from senior Lukus Miller and buckets from Brady Wackler and an old-fashion three-point play from Fall to close the gap 19-18 at the half.
The break wasn't kind to FM going completely cold in the 3rd quarter connecting on just 1 charity toss.
Meanwhile the strategy Newton took was to be more diligent about getting the ball inside with touches to 6'3" senior Oburn who scored 4 in the paint and went to the line twice.
That inside play began to open things up a bit more on the perimeter and the inside – outside touches is what Newton head coach Gavin Spitler preaches to the kids.
When you start off shooting jumpers without working the ball inside those shots get harder.   In the third quarter I think we outscored them by 12 and that was because we got the ball inside and when we did hit a couple jumpers it was because the ball went inside first," Spitler said.
Quinn Peters was the one who benefitted by scoring 7 of his 10 points in the quarter to help give the Indians a 32-19 lead heading into the final stanza.
The scoring dropped significantly for both teams in the 4th as Newton went on to the 37-25 win.
Tonight, we struggled a bit on offense, but you know when you come in and play FM they are going to play hard nosed defense.  I believe we did a decent job as a team as well on defense because you know they are  going to set a lot of back screens and we did a decent job of defending it, there was a couple they got loose but overall, I was pleased," Spitler said.
Franklin Monroe got 13 from EB Fall, the team now falls to 4-7 overall and 2-5 in the WOAC.  They will travel to play Tri-Village on Friday.
Oburn had 14 and Peters 10 for Newton, now 6-8, 3-3 and they will host Tri-County North on Friday.
BOX SCORE
SCORE BY QUARTERS
NEW     09        10        13        05 – 37
FM       08        10        01        06 – 25
TEAM SCORING
NEW:     Peters 10, Montgomery 5, Tucker 4, Colvin 4, Oburn 14
FM:      Riffel 3, G. Wackler 2, Figel 2, Miller 3, Fall 13, B. Wackler 2