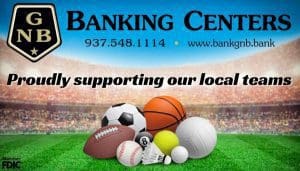 GREENVILLE – With the day off from school, 15 Greenville Senior High School buddies took advantage of Tuesday temperatures in the mid 50's in the middle of January to play a game of football before heading to the local Y to work out and play some basketball.
"We have a group on Snapchat," said Clayton Paul. "We all got together on Snapchat to play some football."
Greenville High School football player No. 79, Teagan Stump, a defensive tackle and left tackle for the Green Wave was making his presence known on the field in front of the high school.
"We're just a bunch of kids that play pickup football all the time, during the winter, during the spring and summer," Stump stated.
"We just play for fun when it's nice out," said Robert Ashworth. "I enjoy being out here with my buddies."