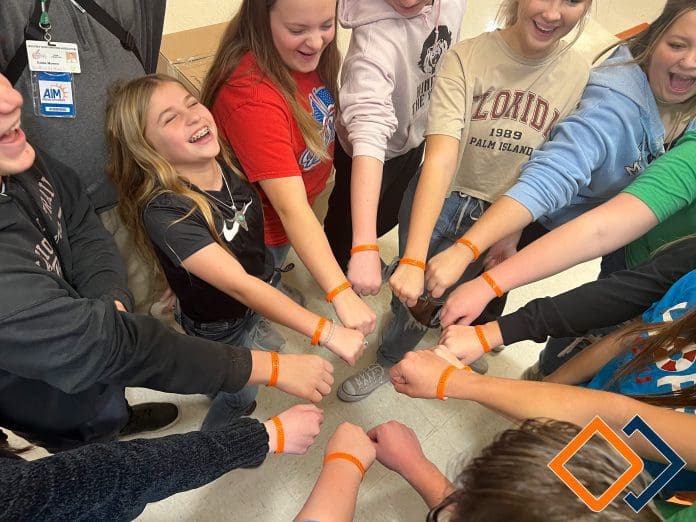 NEW PARIS— Leadership coach Heather Suerdieck's "You Matter Movemen" shows no signs of slowing down.
Although she only began distributing the inspirational bracelets and cards to local students in spring 2022, this year she's reached 8,000 students in Darke and Preble Counties.
Suerdieck, owner of Inside Out Coaching, met the recent milestone of 8,000 bracelets sold, donated or gifted last week when she traveled to National Trail Schools and presented their Hope Squad with over 600 bracelets for grades fifth to 12th.
In addition to delivering bracelets, Suerdieck gave the students a presentation on what the "You Matter Movement" really means.
"A You Matter bracelet is that reminder that you can be more at choice," she said. "It's just like resetting your thoughts to better serve you."
In addition to a bracelet that reads "You Matter" in each school's color, students received a card that reads, "You Matter. Two of the most powerful words on the planet, yet we struggle to say them to ourselves each and every day. Your journey matters. Your voice matters. Your feelings matter. Your thoughts matter. Your future matters. And most of all, you matter."
Following her remarks, National Trail Superintendent Robert Fischer encouraged the students to be there for their peers.
"We all know that there are kids that are struggling with different things," he said. We have to come together collectively to be here for them. Unfortunately where kids struggle the most is when they feel they don't have anybody to rely on.
School distribution is made possible with sponsorships from local businesses. You can also buy the bracelets at local merchants, and from each You Matter bracelet purchase, $2 goes back to buying the You Matter bracelets for students.
The bracelets are made with help from Biller's Stamps and Engraving, of Arcanum, and are available for purchase at four different locations in Darke County. Four Twenty Three in Greenville, Ashes to Beauty in Ansonia, Blue Willow Boutique in Versailles and 4One Apparel in Arcanum.
Sponsors for the National Trail distribution include: Preble Co. Ace Hardware (Travis Earley), Freedom First Credit Union, Skyline of Eaton, Thrive Therapeutics, Eaton Hometown Furniture, Bushrod Brew Works, Creative Comforts Veterinary Clinic, Remax, Prodigy Salon and Spa LLC, My County Link, Community Members: Rene Lair, Yolanda Haston, and Tim & Annette Smith, and Inside Out Coaching LLC.
For more information on Inside Out Coaching or the You Matter Movement, go to www.insideoutcoachingllc.com/ or contact Suerdieck at heather.suerdieck@gmail.com.