The Little Miss and Mister Darke County Fair Queen and King Pageant took place Monday night at the fair.
Judges for the night included Primetime Amusements' Amanda Stein, 2004 Little Miss Darke County Fair and Tri-County North Kindergarten Teacher Taylor Collins, 2023 Miami County Pork Queen Lydia Durst, AIM Media's Christine Randall, and Darke County Fair Manager Laura Ahrens.
MCing the night was Brooke Moore from 2News.
The contestants were dressed in their favorite costumes as they walked down the stage. Moore then asked them questions, such as their age, what their costume was, and their favorite part of the fair.
First was the Little Mister Pageant.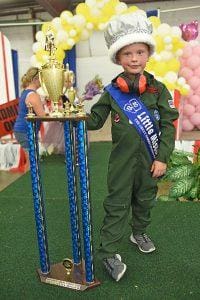 The Little Mister contestants were Rhett Brenner, Andrew Brooks, Oliver Corbin, Sullivan Cover, Leo Duke, Brecklen Hart, Jaxon Metzcar, Kingston Moneysmith, Elliott Palmer, Brycen Pearson, and Dalton Stover.
Fourth place was Rhett Brenner.
Third place was Brecklen Hart.
Second place was Brycen Pearson.
Winning first place, crowned Little Mister Darke County Fair King, was Jaxon Metzcar!
Jaxon Metzcar was dressed as a Helicopter Pilot and said he wanted to be a helicopter pilot, a scientist, or a firefighter when he grows up. Jaxon also said his favorite part of the fair is the ski ride.
"It's kinda fun because it like spins," Jaxon said. "I was kinda scared when I first rided it."
Following the Little Mister Pageant was the Little Miss Pageant.
The Little Miss contestants were Sadie Mae Bourne, Elyse Coons, Elizabeth Corbin, Lyrah Dohme, Emma Fourman, Evelyn Fourman, Haven Hummel, Porter King, Oakley Klosterman, Lucy Kremer, Sawyer Mikesell, Kennedy Moneysmith, Alaina Pitsenbarger, Lillian Pitsenbarger, Vivian Post, Eliza Powell, Tayla Reeser, Traeh Reeser, Tylee Reeser, Rowan Reier, Bennett Schepis, Magnolia "Maggie" Smith, Shaylee Spencer, Baylor Stikeleather, and Rayleigh Stikeleather.
Fourth Place was Sawyer Mikesell.
Third Place was Magnolia "Maggie" Smith.
Second place was Lillian Pitsenbarger.
Winning first place, crowned Little Miss Darke County Fair Queen, was Haven Hummel!
Haven Hummel was dressed as a princess and said when she grows up, she wants to be a doctor because she likes them. Haven's favorite part of the fair is the Ferris wheel.
"I like it cause it goes round and round," Haven said.
Congratulations to every contestant for doing such a fantastic job!
Congratulations Haven and Jaxon!