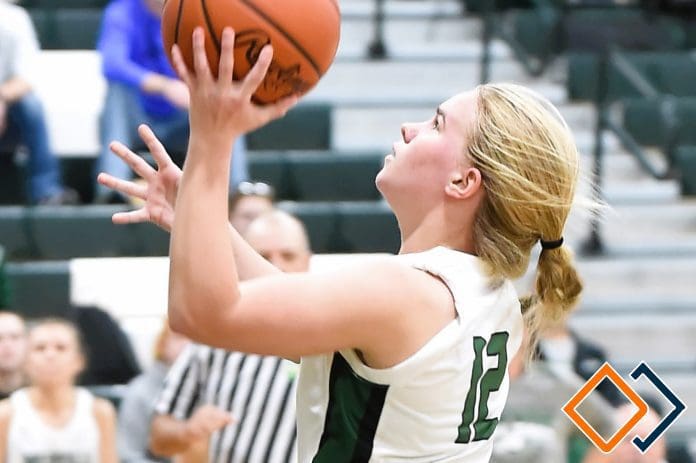 GREENVILLE – The Greenville Lady Wave battled back to defeat the visiting Indian Lake Lady Lakers 55-50 in a Monday night non-conference basketball matchup.
"Overall a really great effort," said Lady Wave coach, Rachael Kerns. "Anytime we score 55 points we're going to have a pretty good chance to win."
Four year Lady Wave starter, Skylar Fletcher bested her career high 25 points by pouring in 30 points to lead Greenville to the win.
"She is just a competitor," Coach Kerns said of Fletcher. "Competitors don't like to lose and the two losses that we have so far it just made her hungry. I am really proud of her composure out here tonight. It wasn't a perfect game but she just played a really fantastic all-around game today – it was nice to see her have the offensive game that she had."
Indian Lake jumped out to a 16-13 lead after one period of play with Allison Kinney scoring 10 Lady Laker points including two 3-pointers while Fletcher and Minaxi Pandey accounted for the Lady Wave scoring; Fletcher 8 points and Pandey a bucket and a 3-pointer for 5 points.
Greenville took period No. 2 by an 11-9 score led by six Fletcher points, Pandey and Megan Lind each with a 2 point bucket and a Brook Schmidt free throw sending the teams to the break with Indian Lake clinging to a one point 25-24 lead.
The visitors pushed its lead to 40-37 after three outscoring Greenville 15-13 in the quarter. The Lady Wave were paced by Pandey's 7 points including a trey, Fletcher 4 points and Gracie Thacker with 2 points.
Avery Baumann drained a Lady Wave baseline 3-pointer with 7:32 showing on the fourth quarter board to knot the score a 40-40 only to have Indian Lake knock down a free throw to go back up 41-40. Fletcher canned a triple from the top of the key to make it a 43-41 game and followed with a driving right handed layup to push the Lady Wave's lead to 45-41 at 6:06.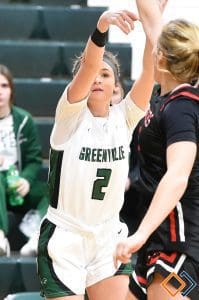 Indiana Lake made a 7-3 scoring run to even the score at 48-48 with 3:27 showing before Gracie Thacker hit a five foot jumper in the paint giving Greenville a 52-50 lead followed by a Fletcher steal and driving layup – her 30th point of the night giving the Lady Wave a 54-50 advantage with 0:30.6 remaining on the game clock.
"They turned the ball over and we made them pay," said Kerns. "Skylar went in and finished with a layup and that really sealed the game right there. We did just enough, we did what we had to do and the good guys came out on top."
Megan Lind closed out Lady Wave scoring knocking down the front end of a one-and-one from the charity stripe.
Fletcher led Greenville and all scorers with a game high 30 points while accounting for 8 steals and 6 rebounds. Lind led Greenville with 10 rebounds.
Coach Kerns took time to talk about her Lady Wave defense and play in the paint.
"It's really hard to talk about how good someone plays defense when it doesn't show up in the scorebook," she said. "What Megan (Lind), Gracie (Thacker) and Brook (Schmidt) provide on the offense and defensive end doesn't always show up in a scorebook. They do a lot of good things. When you have a little bit on the inside, people from the outside can get to the hoop a little bit."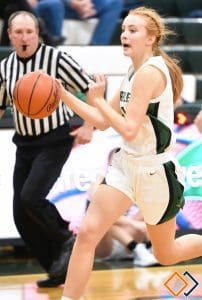 "What Megan does defensively, it is unreal," Kerns continued. "No. 10 (Altstaetter) is a really nice player for them and Megan that fourth quarter just shut her down. She made her work for any move that she had. If we didn't have that post presence on the defensive end I think the outcome would be a little bit different."
"Avery (Baughmann) is not really tall and she did a really good job on No. 13 (Kinney)", Kerns added. "I think she had nine points when she came in to start guarding her and ended up at half, she only had two on Avery."
Greenville was 5-18 at the charity stripe for 28 percent shooting, Indian Lake made 9-18 for 50 percent.
BOXSCORE:
GREENVILLE 55, INDIAN LAKE 50
GREENVILLE – S. Fletcher 30, M. Pandey 14, G. Thacker 4, A. Baumann 3, M. Lind 3, B. Schmidt 1 – TOTALS 19 5-18 4 55
INDIAN LAKE – A. Kinney 18, S. Altstaetter 12, M. Dixon 10, S. Hill 9, M. McCullough 1 – TOTALS 16 9-18 3 50
3-POINTERS
Greenville 4 (M. Pandey 2, A. Baumann 1, S. Fletcher 1))
Indian Lake 3 (A. Kinney 2, S. Hill 1)
SCORE by QUARTERS
13-11-13-18 55 Greenville
16-09-15-10 50 Indian Lake