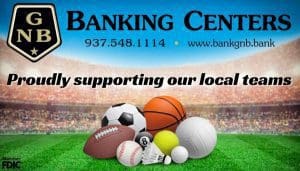 GREENVILLE – The Greenville JV earned a come from behind 47-40 MVL win over the visiting Fairborn Skyhawks.
Fairborn took an early 11-7 lead after one quarter of play taking advantage of three first quarter 3-pointers.
The Skyhawks pushed its lead to 25-15 at the break outscoring the Wave 14-8 including its fourth and fifth triples of the first half.
"When we were down 10 I started to bring up some pressure," said Gable. "I brought up some of the freshmen to bring us a little more activity and spark and they really did that."
"Lucas Brenner has done a nice job," Gable continued. "Our guys…the chemistry is getting better the last couple of games. We've moved a couple freshmen up, made some changes and they are buying in and we are playing a little harder – just a good effort from all of them."
Greenville made a dent in the visitor's lead in third quarter play doubling up on the Skyhawks 12-6 led by Layne Hocker's 8-points sending the JV game to the fourth quarter with the Green Wave trailing 31-27.
"We cut it to four going into the fourth then we outscored them 11-points," Gable stated. "It was one of those games where I was putting guys in and out for offense, defense, trying to figure out what worked."
"Owen McGreevey has made a big difference coming back," he added. "He's been out for five weeks with a stress fracture so his activity in the middle is a lot different for our team when we can run a little more and press with him in there."
Period No. 4 saw Greenville more than double-up on the Skyhawks with Lucas Brenner draining three 3-pointers and two 2-point baskets to lead the Wave with 13 fourth quarter points to defeat Fairborn going away.
Hocker led Greenville and all scorers with a game high 18-points while Hocker was adding 13-points to the win, all coming in the fourth quarter.
Coach Gable understands his role as the Junior Varsity coach … getting the younger player ready for future varsity action. Two JV starters, Ethan Massie and Ryan Staver were recently promoted to fulltime varsity status.
"The two juniors Coach Hamilton has moved up to full time varsity, which we have been working with them, trying to get them ready and now we are concentrating on some of the freshmen, getting them some minutes for next year and getting the nucleus of the sophomores ready for next year to play some varsity minutes," Coach Gable said. "There are three or four of those sophomores I think will contribute next year."
BOXSCORE:
GREENVILLE 47, FAIRBORN 40
GREENVILLE – L. Hocker 18, L. Brenner 13, O. McGreevey 4, D. Conway 4, C. Good 3, B. Wills 3, L. Thorp 2 – TOTALS 16 6-19 3 47
FAIRBORN – J. Fifield 12, S. Townsend 11, T. Whitley 6, B. Steyaer 4, G. Weightman 3, J. Smith 2, G. Donnelly 2 – TOTALS 10 2-7 6 40
3-POINTERS
Greenville 3 (L. Brenner 3)
Fairborn 6 (J. Fifield 4, S. Townsend 1, T. Whitley 1)
SCORE by QUARTERS
07-08-12-20 47 Greenville
11-14-06-09 40 Fairborn